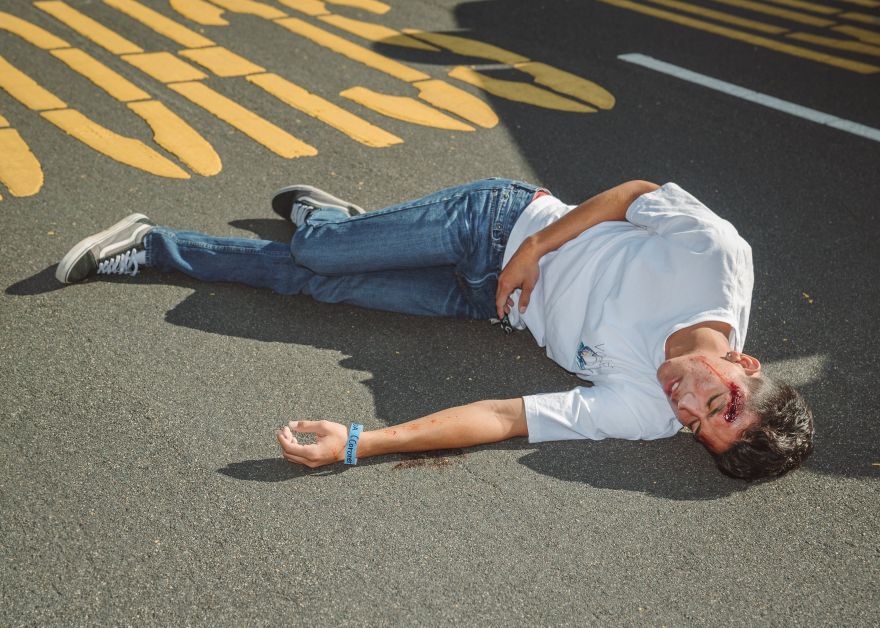 Shingle Springs, California. On a hot April morning at Ponderosa High School, volunteers paint teenagers with fake blood. Others mess up their hair by holding battery-powered fans a few inches from their face, and a Grim Reaper examines a folding table filled with peanut butter pretzels, gummy bears, and doughnuts.
Evan Chavez, an 18-year-old senior, and Ella Beezley, a 17-year-old junior, are waiting their turn at the makeup station. "I'm in the car with Alex—as the passenger—who's the drunk driver," explains Chavez, who has red hair and a matching beard. "And I get critically injured and helicoptered to the hospital." Chavez is slated to lose an arm during the event. Soon, he says, it will be "bloody and black and blue and crushed, like it's losing blood and starting to die."
"I'm the passenger in the other car, and I get hit and die," says Beezley, who will have a large head wound applied above her wide hazel eyes. "I'm dead on the scene."
Shingle Springs, located in rural El Dorado County, is a community of less than 5,000 people, about 40 miles from Sacramento. Beezley and Chavez, along with 34 others, have been selected from around 1,800 at Ponderosa High—or "Pondo," as everyone calls it—to play a role in their school's version of Every 15 Minutes, a grisly pageant involving a mock car crash and funeral intended to curtail teen drunk driving through elaborate role playing. Ponderosa High stages the program every two years for its junior and senior classes.
Is this method effective in deterring teens from drunk driving? Does it work? Find out more on Topic.
(Image Credit: Brandon Tauszik/ Topic)
Source: neatorama