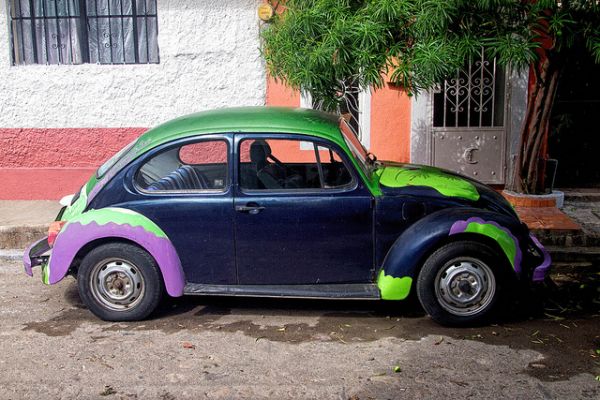 Cars straight from the factory have gone through a detailed finishing process that primes, paints, and seals the color in several layers and processes, sometimes with novelty additives. And companies have used more than 50,000 different colors. So what happens when you have your car repaired after a collision? The process of making the repair match the rest of the car is an art as well as a technology. Adalberto Gonzalez is an automotive artist, a color matcher at Alameda Collision Repair. His process entails a lot more than just grabbing a color off the shelf.
Gonzalez is making what's called a metamer, a color indistinguishable from a reference even if its physics and chemistry differ. It's not easy. Automotive colors are increasingly sophisticated and complicated. "Harlequins," for example, show three different colors depending on what angle you're looking from; new mattes compete with pearls and metallics. But in a deep, philosophical way, none of that matters, because the physics of how light interacts with a paint is less important than the biology and neuroscience of how the eye and brain turn that physics into an idea of color.

Gonzalez begins by consulting a wall-mounted computer touchscreen for basic recipes that replicate colors from the original equipment manufacturers. A given OEM paint might require a recipe of seven, eight, a dozen paints from an aftermarket company like AkzoNobel1 or PPG. (I should disclose here that my cousin's company supplies paint to Alameda Collision and put me onto Gonzalez.)

But even with a recipe in hand, Gonzalez will have to account for "field variance." That's a polite way of saying, how messed up is this car? Has it been parked outside for two years? Was it painted at the beginning of a new run, when the assembly line's paint system might not have been cleaned properly and still contained a little bit of the last color? Is it "darker and dirtier?" A little redder? A little bluer?
You can see how easy it would be to mess this up. Read about car colors and how they are recreated at Wired. -via Metafilter
(Image credit: Flickr user Ed)
Source: neatorama