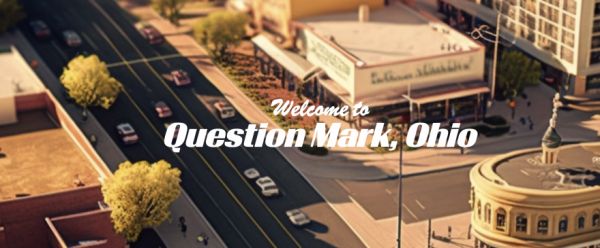 Question Mark, Ohio, is a fictional town that is much like many small towns you know. It is also a slow-rolling internet mystery story that is quickly gathering fans. Question Mark high school student Violet Bookman is documenting the weird things going on in her town at Instagram (start here and click the left arrow to read her posts in order). First, her shoes went missing. Then she hears strange sounds that continue through the account. Then the cat Mr. Business went missing. It turns out there are a lot of missing pets in Question Mark.
Along the way, we meet interesting characters, like the city worker who used to be a wrestler and the teacher from Cleveland with an umbrella tattoo. In addition to Violet's Instagram account, you can keep up with contributions from other Question Mark residents at the city's announcement page. The goings-on are rather entertaining (like the elementary school play), but you are drawn to stay with it to get the answers to lingering questions. Does the fact that Violet wears hearing aids have anything to do with the odd sounds she hears? Why does Bruno communicate with pictograms instead of speaking? What does the umbrella signify? Why does the French teacher hate Violet? And where does that big hole in the ground go?
This project is the brainchild of Joe Meno and Dan Sinker, who talk about Question Mark in this interview. They worked on it for six months before launching late last month. -via Metafilter
PS: If you cannot access Instagram, this link may help you keep up.
Source: neatorama