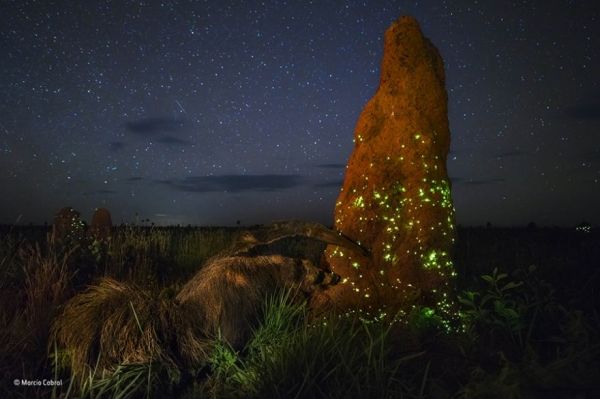 (Image credit: Marcio Cabral)
Last year, Marcio Cabral's photo of a Brazilian giant anteater won first place in the "Animals in their Environment" category of the National History Museum's Wildlife Photographer of the Year competition. It was a night shot of a glowing termite tower with an anteater, taken with a 30-second exposure at Brazil's Emas National Park. Some folks marveled at how an anteater stayed still for a 30-second exposure. Someone else noticed the resemblance of the anteater to a taxidermy anteater on display at the park's entrance.
(Image credit: London Natural History Museum)
According to the museum, five anteater specialists were then brought in to find out whether it was the same "animal" used in Cabral's award-winning photo.

"The five scientists, working independently of each other, all concluded there are elements of the animal's posture, morphology, raised tufts of fur and patterns on the neck and head that are too similar for the images to show two different animals.

"The experts would have expected some variation between two individuals of the same species."
After the investigation, the Natural History Museum has disqualified Cabral's photo from the competition. Cabral insists the photo is real. Read more about the scandal at Buzzfeed.
Source: neatorama