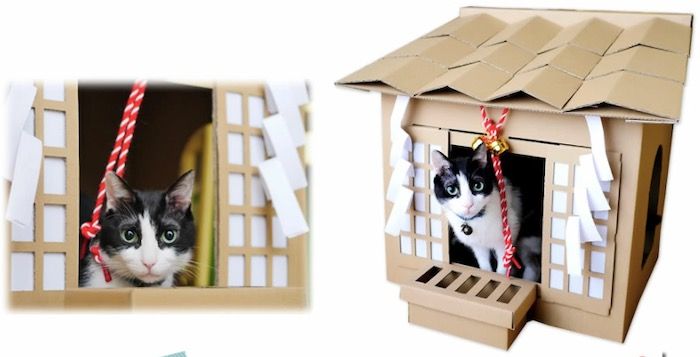 Are cats really gods in our midst? I wouldn't be surprised if the answer to my question is yes. And if that is the case, then it would only be fitting to serve these creatures and devote ourselves to them.
So why not take the next step with this cardboard Shinto shrine for cats, created by a Japanese cardboard company. From scratching pad and hiding spot to litter box cover, there are multiple ways to use the shrine to further your devotion.
The cardboard shrine was developed by Howay Industry, an Osaka-based manufacturer of cardboard and cardboard products. Unsure of how much demand there would be for a cardboard shinto shrine for cats, the company turned to crowdfunding site kibidango, where they quickly surpassed their goal of 500,000 yen (about $4800 usd) and have already raised three times the amount. The basic shrine is going for 4840 yen (about $46 usd).
It is only available in Japan, unfortunately, but talks are being made with the manufacturer.
What are your thoughts about this one?
(Image Credit: Spoon & Tamago)
Source: neatorama