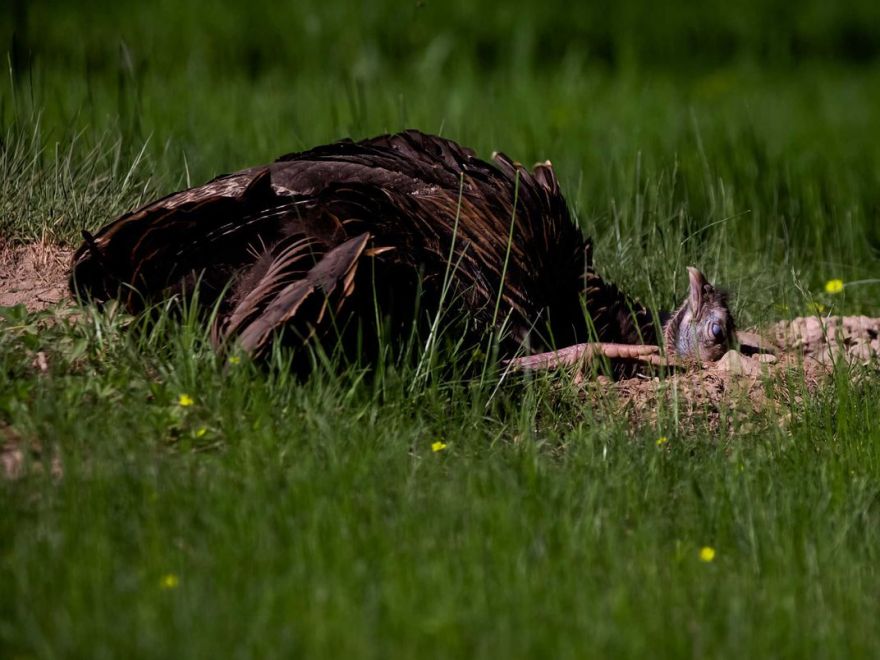 Carla Rhodes knew something was up when she saw the patch of dust forming in her backyard. Curious to see what was going on, the wildlife photographer decided to set up a trail camera, and, lo and behold, her camera captured a wild female turkey which stopped by her backyard every afternoon to treat itself with a nice dust bath.
Soon after, Rhodes set up a camouflaged hunting blind in her driveway. Armed with her camera and hoping to snap a photograph of the wild turkey in action, Rhodes sat for hours in silence. "One day, I was in there for four hours, and I wouldn't leave because I would think, when I leave, she's going to show up," says Rhodes.
"My husband would come outside while I was in the blind," says Rhodes, "and I would call him from my cell phone and be like, "Get back inside—she might show up, you might scare her!"
Finally, the turkey arrived at the patch of dust, and began her ritual of wriggling and frantically flapping in the dirt, tossing clouds of dust into the air around her. Rhodes was thrilled—she'd finally captured the turkey dust bathing, but she moved too quickly and spooked the bird. The next time the turkey showed up, Rhodes was more cautious and snapped more shots.
For a few weeks, with an enthusiastic spirit, Rhodes observed and documented the female turkey.
Read about her experience, and see some of the photos she took, over at Smithsonian Magazine.
(Image Credit: Carla Rhodes/ Smithsonian Magazine)
Source: neatorama