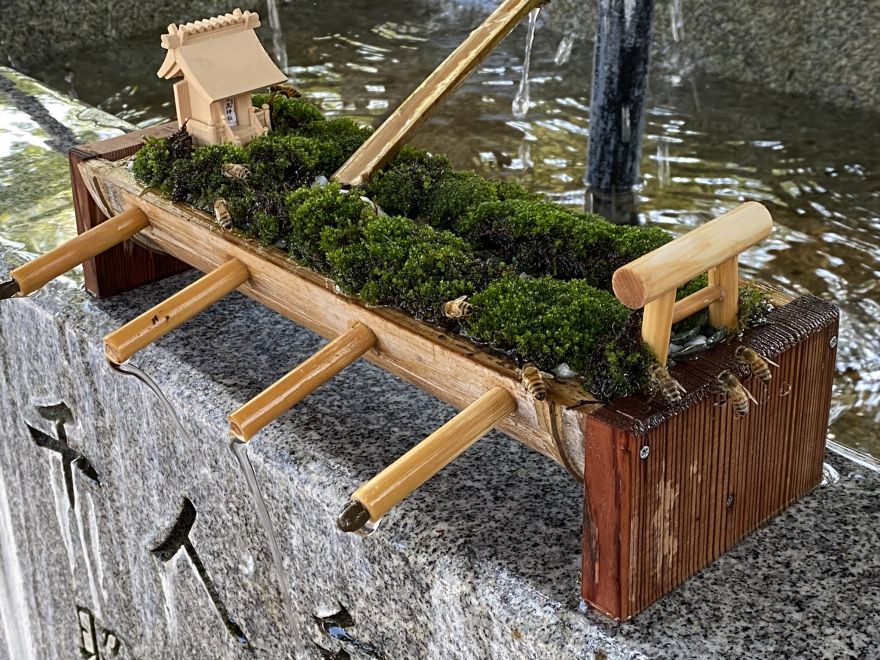 Perhaps the most defining trait of the Shinto religion is its reverence for nature. This is why you'll find Shinto shrines in places filled with trees and plants. Of course, when there's flora, expect that there will also be fauna. It is normal to encounter them when you go to Shinto shrines. And, because fauna is also part of nature, the Shinto finds a way to co-exist with them in harmony. This Shinto shrine called Hitokotonushi, which is located in Ibaraki Prefecture, is a great example. When the shrine's staff realized that bees went to the shrine to quench their thirst, they decided to make something for the latter.
…the shrine has installed a gorgeous miniature drinking fountain especially for them.
…the bees no longer have to cling precariously to the edge of the large water trough to get a sip of water — they can now quench their thirst in a more secure position, atop two mounds of wet moss.
… [the] staff have added a sign to let visitors know the bees are gentle and rarely sting unless provoked.
Now that's wholesome.
(Image Credit: @hitokoto0913/Twitter via SoraNews24)
Source: neatorama