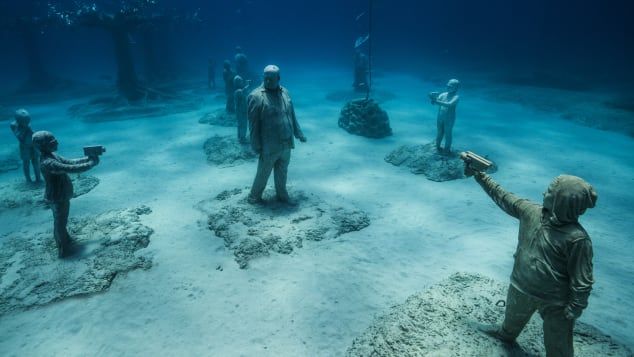 Jason deCaires Taylor is a British artist known for his underwater sculpture installations, such as the Molinere Underwater Sculpture Park, the first underwater sculpture park in the world, in Grenada, as well as the Cancun Underwater Museum in Mexico. Now, he has a new underwater sculpture installation, this time located in Mediterranean waters. His new installation, the Museum of Underwater Sculpture in Cyprus, features 93 sculpted figures, each made with materials that attract marine life. Taylor hopes that his work will "bring people closer to the marine environment and the conservation and protection of our marine ecosystem."
His installation apparently cost €1 million (about $1.17 million).
Some of the figures featured include huge trees weighing up to 13 tons as well as children pointing cameras at shapes depicting the human race while playing hide and seek.
"I tried to incorporate as many references to climate change and habitat loss and pollution as I could, because those are really the defining issues of our era," Taylor tells CNN Travel.
"I'm kind of hoping that it leaves the visitor with a sense of hope along with a sense that the human impact isn't always negative. That we can reverse some of the things we've done.
(Image Credit: MUSAN/ Jason deCaires Taylor via CNN)
Source: neatorama