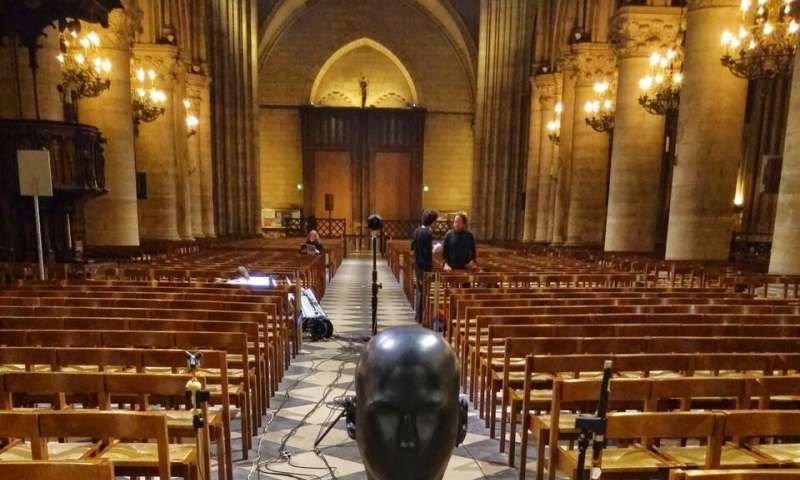 Notre-Dame de Paris, that masterful symbol of civilization, is gutted. But it can be rebuilt and, thanks to a scientific study conducted 6 years ago, even its acoustic properties can replicated.
In 2013, physicists conducted a detailed study of the acoustics of Notre-Dame as they existed at the time. Phys.org reports:
Six years ago, on April 24, 2013, Brian FG Katz, a Fellow of the Acoustical Society of America and CNRS research director at Sorbonne Université, and colleagues obtained detailed measurements of the acoustics of the main space within Notre Dame. […]
Measurements were made using a collection of omnidirectional, 3-D (first order ambisonic), and dummy head (binaural) microphones. Several dodecahedron loudspeakers were situated at key positions inside the cathedral, representing either typical source positions or those measurement positions of a series of measurements carried out by the same lab in 1987.
Katz explains that the measurements his team took can aid reconstruction efforts:
"It can help during renovation works when considering how the impact of any choices might change the acoustics, such as choice of materials," Katz said. "It's not clear yet what state the interior finishes are in, but the wooden panels and paintings within the cathedral are not at all insignificant when it comes to acoustics. Compared to the raw stone structure, these small elements act as possible acoustic absorption and diffusion and can have significant impacts on the resulting acoustics."
-via Wrath of Gnon
Photo: Brian FG Katz
Source: neatorama