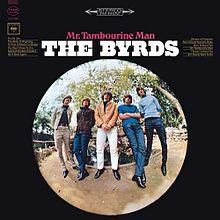 On June 21, 1965, the debut album from The Byrds, called Mr. Tambourine Man was released. This particular album is said to have marked the beginning of the folk-rock revolution. The two-sided album had six tracks on each side, and contained band originals and song covers, one of which was "Mr. Tambourine Man," originally by Bob Dylan. The album was a great success, and…
In just a few months, the Byrds had become a household name, with a #1 single and a smash-hit album that married the ringing guitars and backbeat of the British Invasion with the harmonies and lyrical depth of folk to create an entirely new sound.
You can hear the band's 1966 performance of the song over here.
(Image Credit: Wikimedia Commons)
Source: neatorama