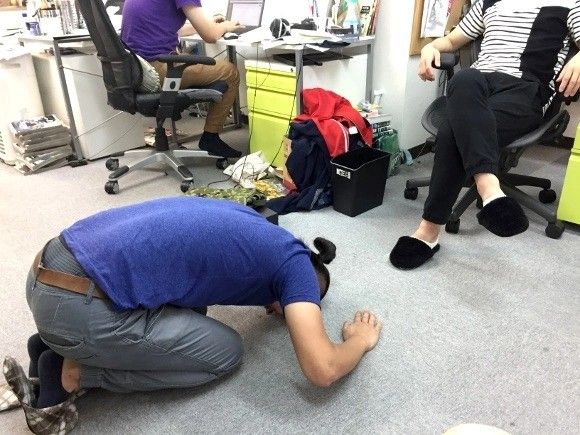 In Japan, a bow conveys a lot of messaging into a brief and sometimes slight movement. Using the wrong bow conveys the wrong message. For example, the eshaku, which is a 15º bow, is a casual greeting. The keirei, which is 30º, is a more formal bow used in the working environment. The saikeirei, which is 45º, expresses deep respect to a social superior.
The gentleman pictured above is demonstrating the dogeza, which is an abjectly apologetic bow used to beg for a great favor or forgiveness for a serious wrong.
Sora News 24 says the dogeza sometimes does not go far enough. That's when the more extreme dogeritsu is necessary. In addition to having committed a huge offense, the dogeritsu requires substantial athleticisim, especially if it is necessary to hold the position while waiting for the aggrieved party to consider the apology.
Photos: Sora News 24
Source: neatorama