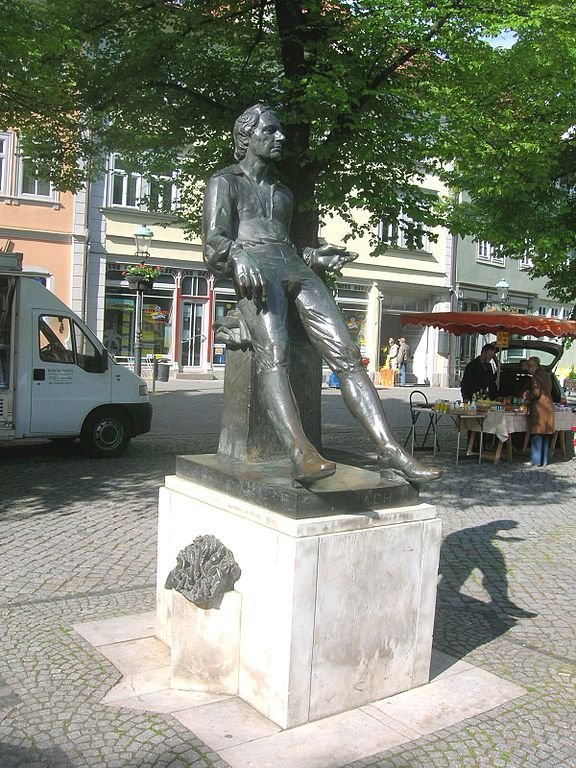 Bach's first regular job was as organist for the town of Arnstadt, Germany. Although he was only about 20 years old, he was the most talented musician of the congregation, and eventually he was obliged to lead the church musicians in performing. He was not a patient director.
Bach was used to the musical proficiency of his extended family, or to that of the prestigious Weimar court orchestra (where he had briefly temped as a violinist before coming to Arnstadt, and where he would later return as organist and then concertmaster). Arnstadt's town musicians were of a much lower skill level, and Bach did not have the experience yet to customize parts to players' abilities (a skill that is highly evident two decades later, in the educational works he would write for his children and keyboard students).

So the bassoonist — a man named Geyersbach, a few years older than Bach yet still in high school[*] — struggled with the part until an exaggerated Bach threw up his hands and called him a Zippelfagottist. (More about this spicy insult below.)

An offended Geyersbach got together with his busking and drinking buddies, and lay in wait for Bach as he returned from a concert at the castle, accompanied by his cousin Barbara Catherina Bach. Geyersbach demanded an apology, and when that wasn't forthcoming, cried out "you dirty dog!" and attacked him with his walking stick. Bach defended himself with his rapier until students separated the two, Geyersbach's jacket having acquired a few ventilation holes.
The fallout from the incident led to Bach leaving Arnstadt, although for a better job. Read more on the incident, including a look at what "Zippelfagottist" might mean at Spin, Strangeness, and Charm. -via Strange Company
(Image credit: Mazbln)
Source: neatorama