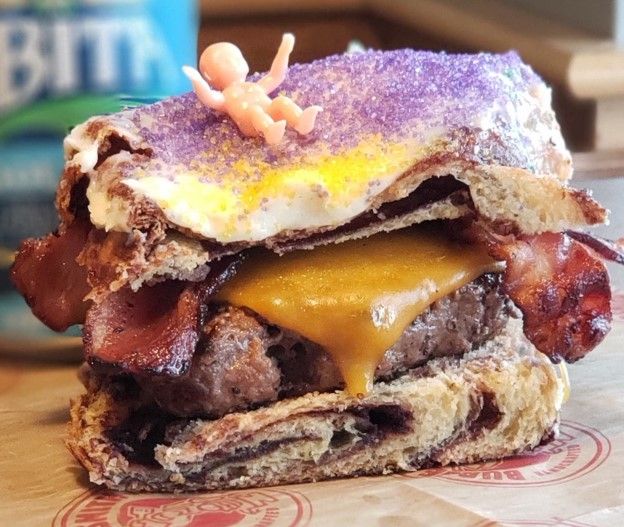 A King Cake is a cake traditionally eaten by communities in the United States that celebrate Mardi Gras. The sugary purple and yellow cake is consumed on the Christian feast day of Epiphany, which is often celebrated on January 6. Inside the cake is a tiny figurine of a baby. The lucky person whose slice of King Cake contains that baby is the honorary king of the day.
Learn from my mistake: the royal position is purely ceremonial and lacks any power whatsoever, so do not make any dictatorial commands upon friends and co-workers.
Anyway, Calandro's grocery store and the Burgersmith restaurant, both culinary institutions of Baton Rouge, Louisiana, have joined forces to offer the Mardis Gras Mambo Burger. This bacon cheeseburger is wrapped around twisted King Cake dough. You can read more about it courtesy of local news reporter and meteorologist Steve Caparotta.
-via Rod Dreher | Photo: Burgersmith
Source: neatorama