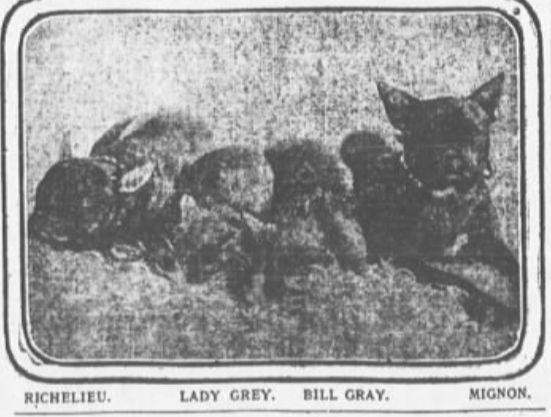 A Brooklyn family with a pedigreed French bulldog welcomed five puppies into the world in the summer of 1904. Sadly, the mother dog died only two days later, and the puppies were in dire need. The owners contacted the local pound for a possible canine wet nurse.
According to the news reports, the pound did not have a suitable dog to take on the important job. However, the superintendent remembered a stray cat that had recently been dropped off at the shelter with her newborn kittens.

He explained to Mrs. Fahnestock that all but one of the kittens had died, and the mother cat appeared to be grieving deeply over her loss. He thought she would accept the motherless puppies and nurse them.

Mrs. Fahnestock agreed to the experiment, and welcomed the mother cat and kitten into her home. The puppies accepted their new feline mother right away. The mother cat, in turn, purred joyously and seemed very happy to have these new fur babies.
The arrangement was custom-made for the papers of the time, so the cat, named Lady Gray, along with her kitten Bill Gray and the five French bulldogs became locally famous. The puppies later went on to win awards in dog shows, while always staying affectionately loyal to their cat mother. Read about the interspecies adoption saga at The Hatching Cat.
Source: neatorama