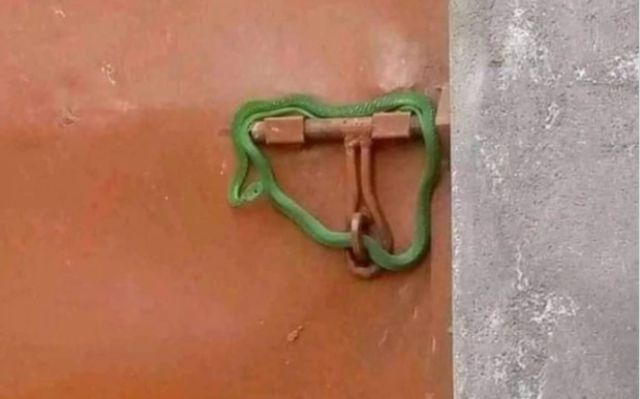 🐍 When this landlord in Kitui, Kenya, wanted to lock out his deadbeat tenant, he didn't bother with locks that could easily be cut off. No sir, he used a venomous snake to lock the gate.
⚡ This decorative outdoor wall panel not only looks good and give you some backyard privacy, it also harnesses wind power to generate electricity. Behold, the Wind Turbine Wall by Joe Doucet.
✋ Stunning: "Hand ballet" as choreographed by Sadeck Waff, who orchestrated 128 performers for the 2020 Paralympics in Tokyo. Featured on Pictojam a while ago, but worth seeing again.
💎 Two words: bejeweled carpet. Okay, make that three words: bejeweled royal carpet. Take a look at this art installation by Dutch artist Suzan Drummen at the Royal Palace Amsterdam.
💨 Who farted? Blame the farting waffle iron.
😸 One day, Gustave Fersenheim, a deaf postal clerk in New York City at the turn of the 20th century, found a kindred spirit: a deaf cat that he adopted. Soon, the cat became part of the post office's feline postal police. Read this wonderful story of The Deaf Cat of New York's Post Office.
🎲 In 1981, Dungeons & Dragons published stats for eight cartoon characters. For example, Donald Duck is a berserker who cannot be killed once he goes into a rage and Bugs Bunny is a 15th-level illusionist.
👨‍🍳 Lastly, this is what 3D printing is invented for: to make a 3D-Printed SpongeBob SquarePants Sponge Holder. Just what every chef and fry cook need in the kitchen!
More neat stories over at our new network of sites: Pictojam, Homes & Hues, Laughosaurus, Supa Fluffy and Pop Culturista. Please check 'em out! Thank you!
Source: neatorama