Housed in the historical Trade Lofts building in Los Angeles, LAUN and Denvir Enterprises have opened a new joint showroom to champion emerging contemporary design within the community. LAUN, founded by Rachel Bullock and Molly Purnell, got its start in LA and has become known for their California-inspired indoor/outdoor furniture line. LAUN is also expanding its residential architecture and interiors practice and will utilize the showroom to bring together both sides of their business. Denvir Enterprises, founded by Holland Denvir, also began its journey in LA and has come to represent a diverse group of vendors in the design world that specifically manufacture sustainable commercial products. Approximately 50% of the small businesses DE represents are minority, LGBTQIA, and/or women-owned brands.
We caught up with Bullock and Denvir to learn more about how collaboration and community is at the forefront of the new showroom, the challenges of opening the space during a pandemic, and the objects they're most about:
Why did you pick this city? Why this storefront in particular?
LAUN: As a design studio, LAUN has always had its roots in LA. We launched our furniture collection in 2018 to bring together our backgrounds in woodworking, metal working, and architecture, always celebrating the unique talents of the city's incredible manufacturers to create sculptural, heirloom-quality pieces that can live both indoors and outdoors.
Our architectural references are also very much inspired by the city and its rich design history. Downtown LA has a unique energy and such a concentration of amazing buildings, particularly the marquees lining the Broadway Theater District, many of which have been preserved and repurposed for retail and as concert venues. This neighborhood has a unique mix of industry and dynamic urban life – rare for a city like LA.
Our space is in the Fashion District in the Neo-Gothic Trade Lofts building dating back to the 1920s. Today, it continues to be a hub for entrepreneurs across the fields of fashion, design, and manufacturing. We're so excited to be part of this community.
DE: Los Angeles is where Denvir Enterprises started and where our small team is based, so it was the natural first choice. We teamed up with LAUN to search for the right office/showroom combo and we looked for a long time. When we visited this space amongst its bustling cross section of long-standing communities and businesses, I think it clicked for everyone that this was the spot. It was an easy decision to say "yes." Having found such success in this first venture, DE definitely plans to expand to additional cities in the future.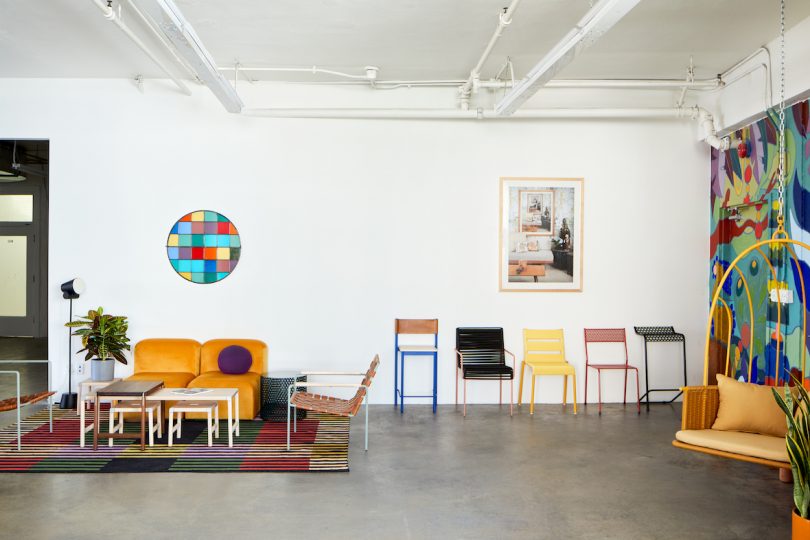 What do you hope to achieve with this showroom?
LAUN: In addition to our furniture line, we have recently expanded our residential architecture and interiors practice. It feels right to have all of the aspects of our design business and the whole team together under one roof. Additionally, we have an extensive research and materials library alongside our design studio and it's been great to be able to show our clients all the facets of what we do, our point of view and how all of these aspects of our practice feed one another.
DE: We want a space for our clients to come and see the products – sit in all the different chairs, see the beautiful finishes, and really experience the products before investing in them for their projects. While our focus is the interior design industry and specifically commercial furniture and finishes, we also want to open up our space to people across various creative industries in LA. The goal is to to create an approachable, creative hub. For the launch party, we did an open call for art across Los Angeles and accepted all entries. The night of the event, the showroom was bursting with an incredible mix of people – artists who had answered the open call, interior designers, people who worked in our building, friends and family. The walls were (and still are!) covered in a diverse array of art and the conversations were flowing across all industries and experiences. I think that both the art and design worlds can often be unapproachable and pretentious. With the showroom, we get to create the type of space and gallery that feels inclusive and hopefully attracts an audience that appreciates, wants to contribute, and hang.
What's one of the challenges you have had with opening this space?
LAUN: We searched for the right location for a long time and finally realized Downtown LA was exactly where we wanted to be. Ample light and space was important to us. As for the build out, we did a lot of it ourselves but we enlisted help for things outside our capabilities and we suffered the same material shortages and construction delays that everyone has been facing lately. It took longer than expected but ultimately we are really pleased with how things came together.
DE: Getting everything done on schedule during COVID is super difficult! The DE team is so so lucky to share a space with LAUN, who designed the build-out and managed construction. I'm personally also very grateful to have my incredible team help bring the space to life.
What's your favorite item in the showroom right now?
LAUN co-founder, Rachel Bullock: We have one of our Bobbin benches here and it's my personal favorite to have in the space because I love watching how people interact with it. Kids have a great time on it – they love to spin the bolsters.
LAUN co-founder, Molly Purnell: We brought some of our earlier prototypes that never made it into full production and I've been really inspired having those around and reimagining their potential.
DE: Ooooh, such a hard question! We carefully chose everything that is in the showroom right now, so I truly love it all. A favorite spot is definitely the mural by Thomas Rodehuth-Harrison with the 1730 Hanging Chair from Mexa floating in front. It's become our "step and repeat" whenever guests come into the showroom and it's created such a memorable and beautiful spot to document everyone coming through the space.
What is this season's theme, inspiration or story?
LAUN: The showroom has pieces from our full furniture line on view. But, our most recent collection, Dawn, shows a more experimental side of the studio which we are excited to continue to explore. It takes inspiration from the vivid symbolism and Surrealist imagery in Octavia Butler's science fiction novel of the same name. The futuristic four-piece collection includes the Octavia lounge chair, made in cast aluminum or fiberglass finishes, an ode to Jean Royère's unexpected materials and curved silhouettes, and the Butler side tables use oversized 'fringe' constructed from silicone cord to create a fluid sense of movement. Over the past few years, we have become really drawn to the otherworldly themes and creations in Butlers novels.
DE: Color and joy! I think we could all use a lot more of both at any given moment.
Are you carrying any specific products or undiscovered gems that you're particularly excited about?
LAUN: So much of our work is based around collaboration with local talent – whether with artists, manufacturers or fabricators. We want the showroom to be a place of discovery – not just for our work but the work of the many others in our community. We're really excited to have art works by the painter Amy Mackay throughout the showroom. Her large-scale gestural paintings really activate the space and add emotion and tactility to the space. We plan to showcase different artists on an ongoing basis.
DE: So many! In terms of brands, Esaila is a Taiwan-based design house with minimal representation in America, so we're a good place to come and see the amazing quality of their work. We're fortunate to work with three unique brands from Mexico – Candor Home, Cerámica Suro and Mexa – that all design and manufacture in-house. Rohi, a German textile manufacturer, although having been around since 1933, is still relatively new to the US market and their wool samples are really impactful to see in person. As for the gems that we received from the open call for art, top of mind is a piece by Neha Assar – a wood platter hand-painted with mehndi inspired art. Another favorite is the ceramics on display by Papiboybabyboy. Having opportunities to display such a variety of art and objects is really exciting and makes me particularly proud of the space and excited for what's to come.
Do you have anything from the showroom in your own home?
LAUN: We like to live with some of the prototypes as a test run – I have a foam model of our Confetti series that I coated in resin and an early Bacall Chair that we made too tall still at my apartment and I'm really excited for two Ribbon chairs that will soon be at home in my living room.
We also have some prototypes of new pieces for 2023 that take inspiration from The Hollywood Seventh Day Adventist Church, a 1960's building that has become an iconic LA landmark. It's a building that has long fascinated us, so it's thrilling to be able to translate its geometric lines and material language into a furniture collection. Molly and I each needed a table at home and we used that as an opportunity to test various iterations of the collection. We also have one of the prototypes here as a conference table which allows us to see the tables in a variety of uses (the one at my house is an indoor dining table and Molly's is an outdoor dining table).
DE: Right now, we have Rug Two and some Soft Sculptures from Work in progress (our sibling brand), Cherry Pendant Lights from Esaila and Amigo Modern's C Laptop Table. We definitely have a long wish list of items that we'll slowly be adding to the home!
What's next for the showroom?
LAUN: It's exciting to be able to join forces with Denvir Enterprises to bring the space to life. We are longtime collaborators who share similar values and a desire to create a vibrant hub for the LA design community. We hope this will become a dynamic new design destination in Downtown LA and host events, installations and exhibitions with other local makers and artists on an ongoing basis.
DE: It's been really nice in just the past few weeks to host interior designer firms and share our space and products with them – we're excited to host local firms multiple times a week. We'll also be hosting tons of events. We want to host panel discussions about architecture and design alongside more open calls for art. I'd like to have guest curators come in and curate the art in the space and bring in more communities that we're not connected to (yet!). We want to pursue our work in the interiors industry while injecting the space with input from the surrounding communities.
What's one lesson you've learned since opening?
LAUN: After two years of working mostly from home, we've been reminded how great community and collaboration is – both internal and external. Our design process is extremely collaborative and being in the same place has really facilitated that after a few years of being apart. It's also been so rewarding to have the Denvir team around us – they all have such great energy and we really strive to support one another. It was a lot of fun to collaborate with them on the shared spaces – and was also a reminder how important multiple perspectives are and how they lead to a better end result.
DE: There will never be a shortage of lessons to be learned.
Photos by Ye Rin Mok.
Source: design-milk