Bodies, in the work of young French photographer and multimedia artist Mehryl Levisse, are objects of erotic worship and surreal wonder. In Levisse's latest exhibition, Birds of a feather fly together, now on at Catinca Tabacaru Gallery in New York City, nude bodies are altar pieces but also pieces of meat on a butcher's block. Almost like Max Ernst's bird paintings bursting into three-dimensional reality, there is an air of mystery and decadence to Levisse's exhibition, which also features sculptural masks and kaleidoscopic wallpaper, creating an immersive multimedia environment inside the gallery.
One of Levisse's goals for the show was to invite the audience into an intimate world, to play with the idea that one becomes a voyeur upon entering the gallery. The wallpaper is site-specific and titled le jardin des souvenir ("the garden of memories"). Levisse considers it a work that is equally dark and dreamy, and part of an attempt to invite people to share in his intimate memories, many of them from his childhood, as if viewers were stepping into his diary. "Jardin des souvenirs" in France is also the name given to the place where the ashes of dead people are kept.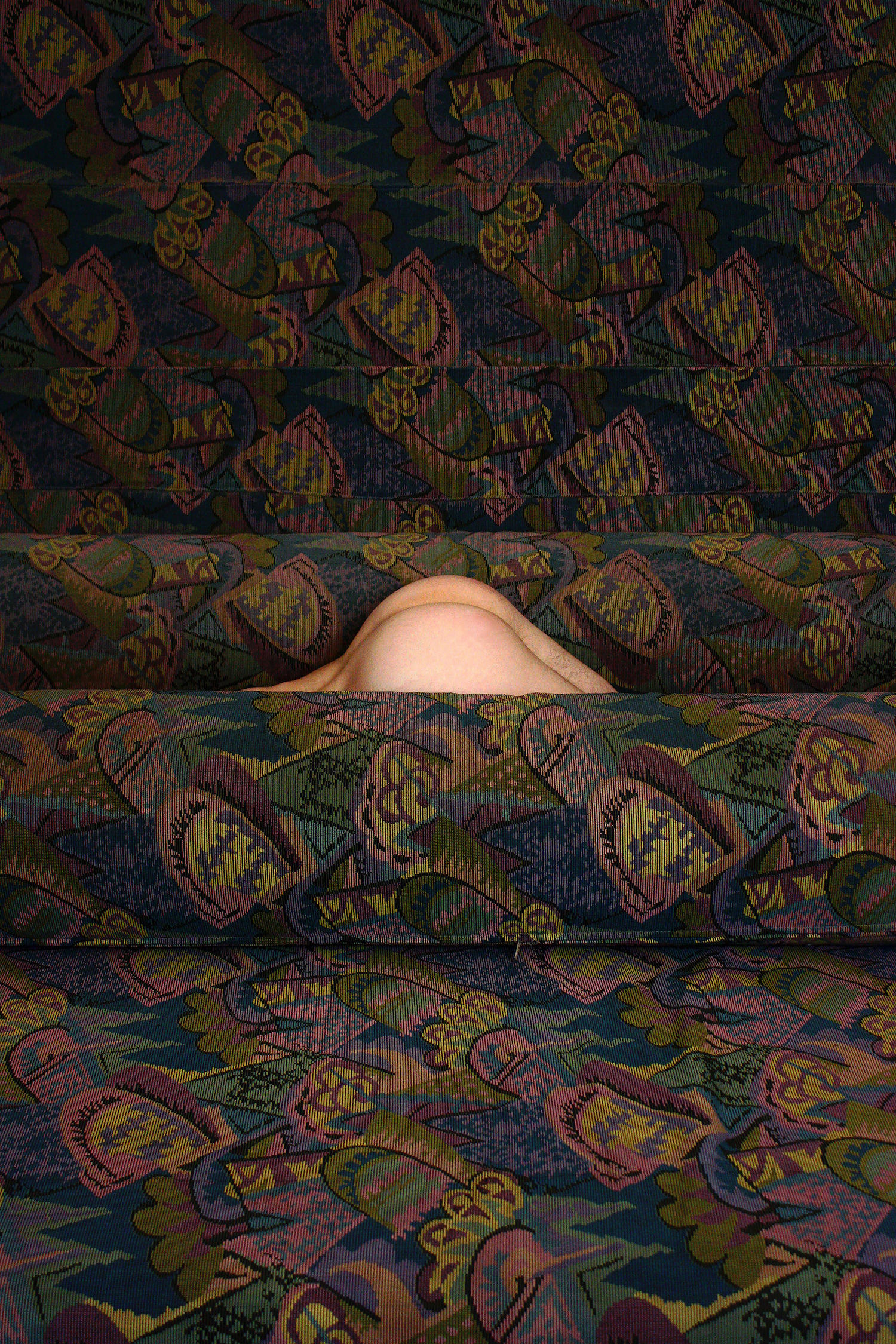 "The pattern of that wallpaper is a photograph I took of the woods in Champagnes Ardennes where I grew up," Levisse tells Creators. "I turned the picture into what could be a lovely reverie as much as a weird nightmare."
"My entire show is built around the idea that everything inside is alive," he adds. "The bodies are alive, but there is this feeling of danger; the masks stand on spikes that may recall the French revolution as much as voodoo practices."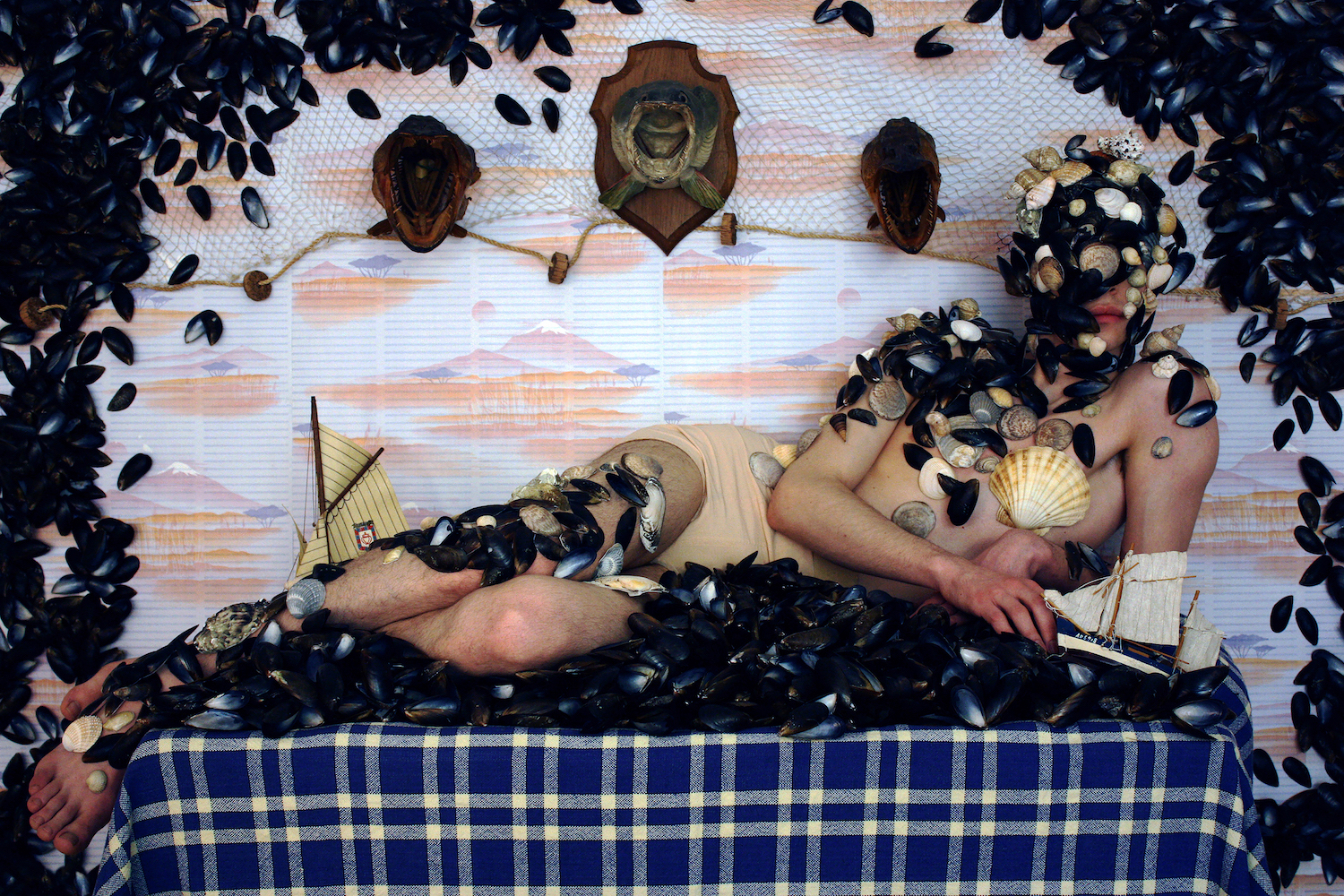 "It's eerie and reassuring at the same time, like the house of an old aunt," says Levisse. "Domestic spaces can be the source of the best things, as much as the worst. Our interiors look like us—we make them in our image, and they also make us who we are."
The elaborate and colorful photographic tableaus, as well as the show's immersive environment, stand in stark contrast to Levisse, who says he typically dresses in simple black clothes. And while he doesn't label himself a Surrealist, he is very interested in the grotesque and the absurd. And unlike many Surrealists, Levisses meticulously plans every detail of his artworks, which typically take one to three weeks to complete.
Working completely alone on the sets, costumes, and makeup, Levisse only uses his own materials, and puts it all together in his studio. And everything he creates is kept and, in some way, recycled for other projects.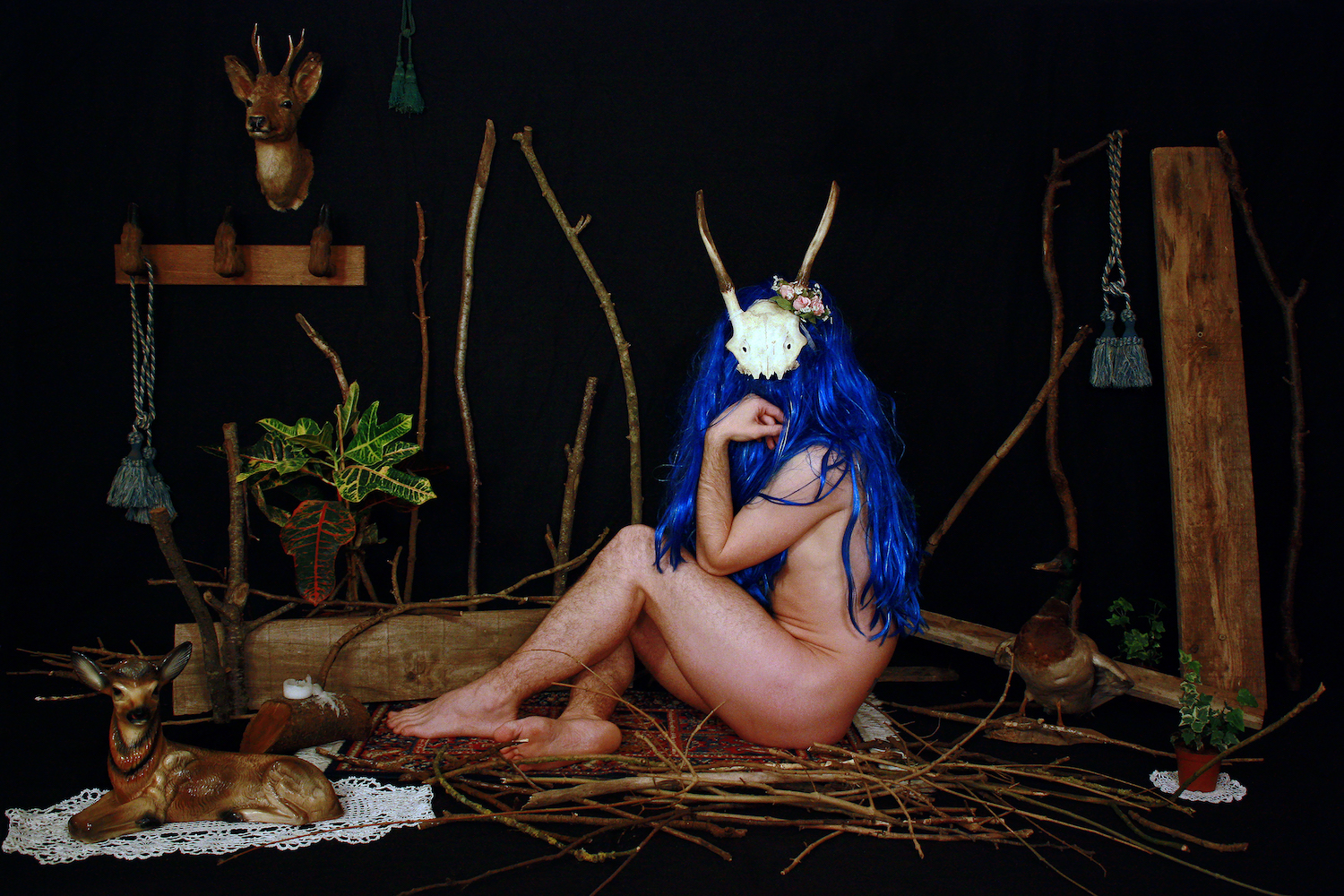 "I store everything in Champagne Ardennes," says Levisse. "It has become quite the collection of objects. Actually, for my show at Centre Pompidou in Paris (Images artifices, December 2016) curator Martin Bourguignat showed a part of my storage space."
Building off of his work on Birds of a feather fly together, Levisse is planning a new project that debuts September 2017 at the Biennale Festival Mondiel des Théâtres de Marionnettes in France, which will feature a new wallpaper, totems, and masks. Levisse is also at work on a gigantic wallpaper installation that will cover 5,000 books in a solo show at Arts Décoratifs Library in Paris, which is set to open in September 2018.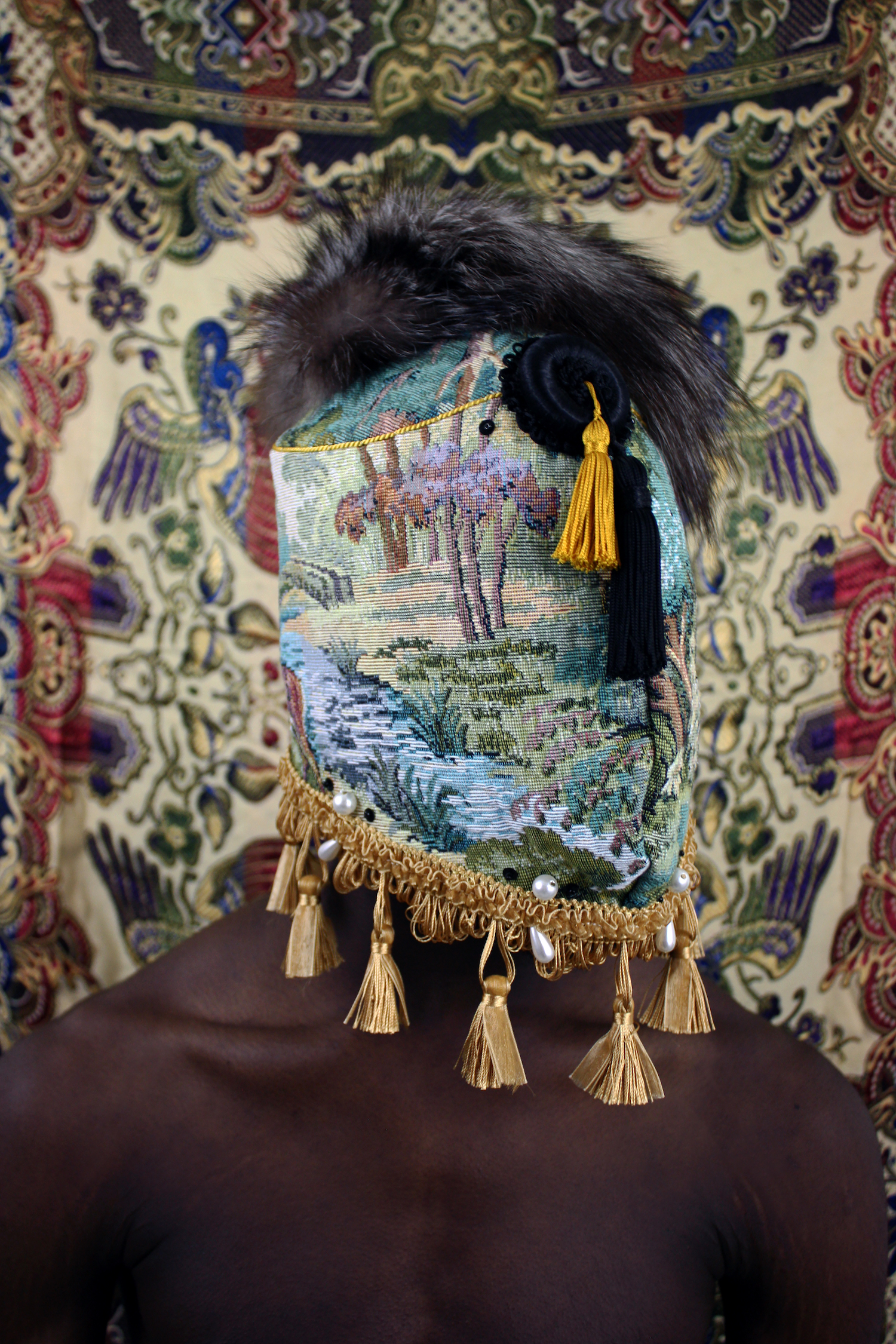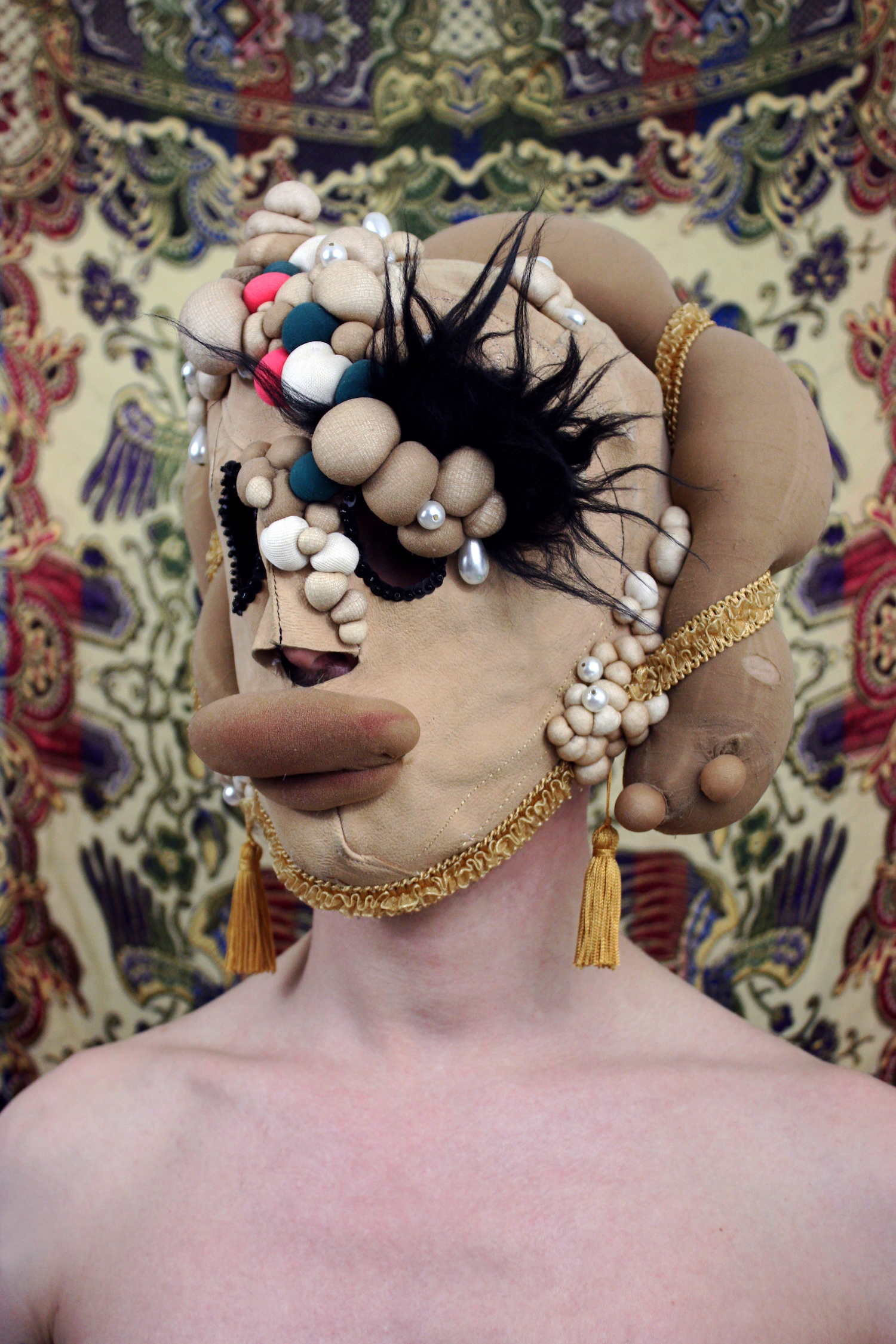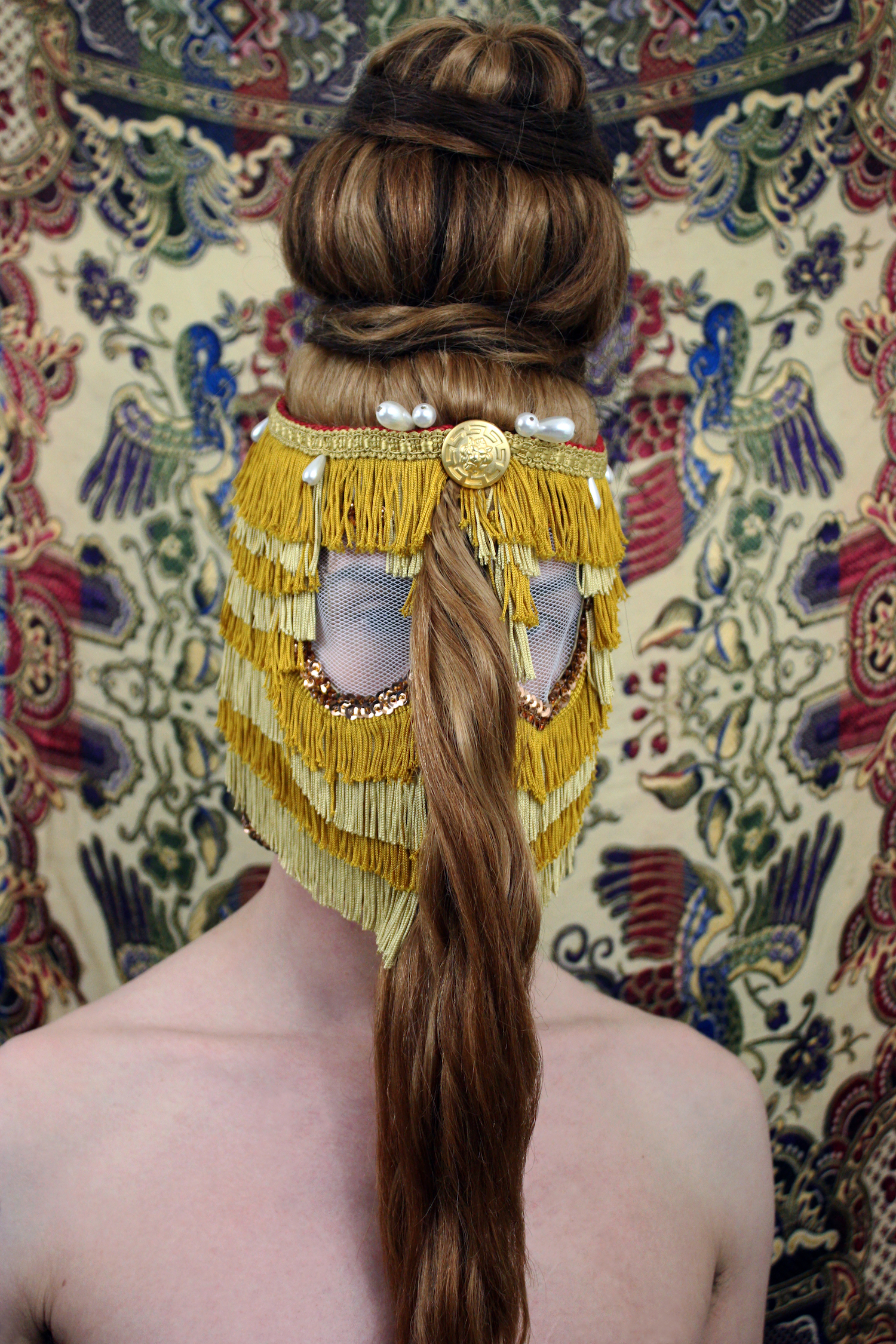 Birds of a feather fly together runs from June 7 to July 9 at Catinca Tabacaru Gallery in New York City's Lower East Side. Click here to see more of Mehyrl Levisse's work.
Related:
[NSFW] Photographer Turns Her Subjects into Androgynous, Erotic Dolls
[NSFW] Feminist Self-Portraits Showcase the Mystical and Sensual Self
Worship at Genesis Breyer P-Orridge's Cut-Up Altar
Source: vice.com