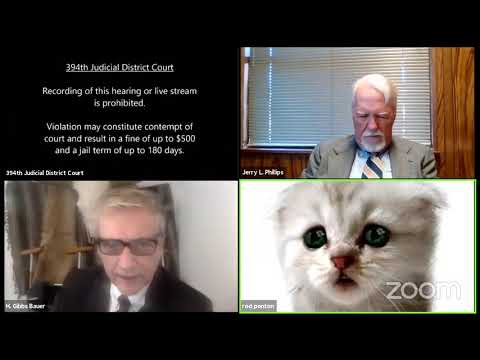 "I'm here live . . . I'm not a cat." Well, that's what attorney Rod Ponton insisted upon when he logged into the Zoom court of Judge Roy B. Ferguson of Texas. Ponton, like a true professional, was willing proceed despite his feline transformation.
Fox 13 News quotes the Judge's prudent advice to all people working from home from shared computers:
"If a child used your computer, before you join a virtual hearing check the Zoom Video Options to be sure filters are off."
Now for my sitcom pitch: Kitten Attorney tells the tale of a lawyer who, despite a terribly cute accident, continues his legal career with a cat's body. I want Clancy Brown in the lead role.
-via Twisted Sifter
UPDATE 2/9/20: Slate has an interview with cat attorney Rod Ponton:
Are you worried that it made you look unprofessional?

No, no, it's just one of those little computer snafus that happens in our age where we're trying to take care of everything by Zoom. It's now apparently gone viral, so that's pretty funny.

Yeah, I think a lot of people were pretty amused.

We have a sense of humor out here in West Texas. If I can make everybody smile for a moment, today I'm happy to do it, even at my own expense.
Source: neatorama