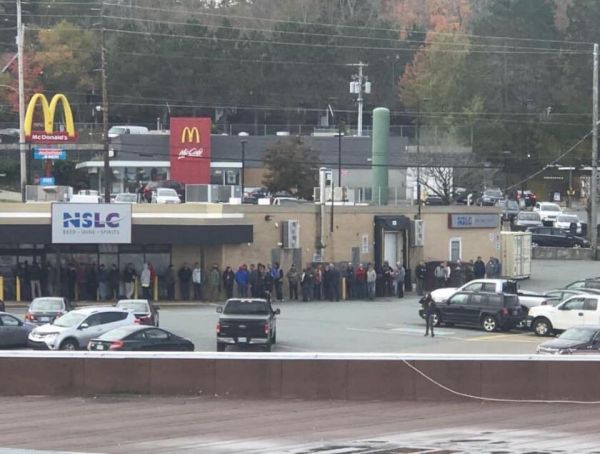 On Wednesday, Canadians were able to legally buy marijuana for recreational use. Each province has the authority to set limits on when and where cannabis is sold. There were long lines in many locations, and the biggest glitch so far is demand outstripping supply. The above picture is from Bridgewater, Nova Scotia, where marijuana is being sold through the state-controlled liquor stores. The main joke is how the sales at the nearby McDonald's is going to soar.
45 minutes from the opening, lineup to grab some of the first legal cannabis sold in Montreal is getting quite long. pic.twitter.com/j5F5aUfoYN

— Dan Spector (@danspector) October 17, 2018
By noon, the store on Ste-Catherine Street in Montreal had a line that spanned two blocks.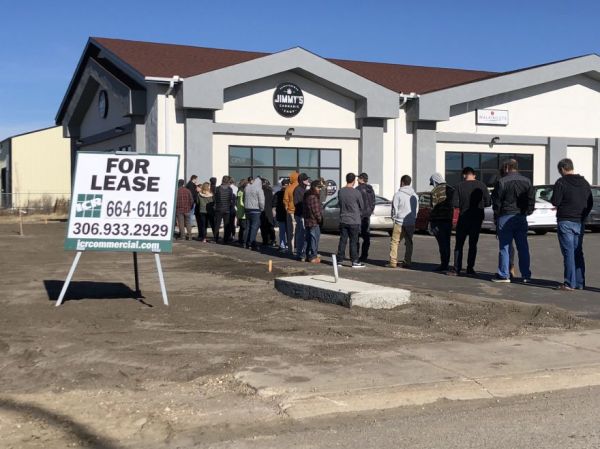 This picture was taken somewhere in Saskatchewan.
Prehistoric vibes on a historic day pic.twitter.com/tjeSHLsfOE

— Andrea Ross (@_rossandrea) October 17, 2018
A T-rex showed up to lighten the mood in the line at Nova Cannabis in Edmonton, Alberta.
The line at the Kamloops BC Cannabis Store as of 2:40pm. Been a non-stop line since they opened. #CannabisLegalisation#canadapic.twitter.com/WQJm0yLBJy

— Lasia Kretzel (@lkretzel1130) October 17, 2018
Only one store in British Columbia is selling pot, and that outlet in Kamloops only received their license the day before. BC residents can also order online. Officials believe lines will become shorter over time, although it may take a while for legal cannabis outlets to accurately estimate the inventory they need.
Source: neatorama