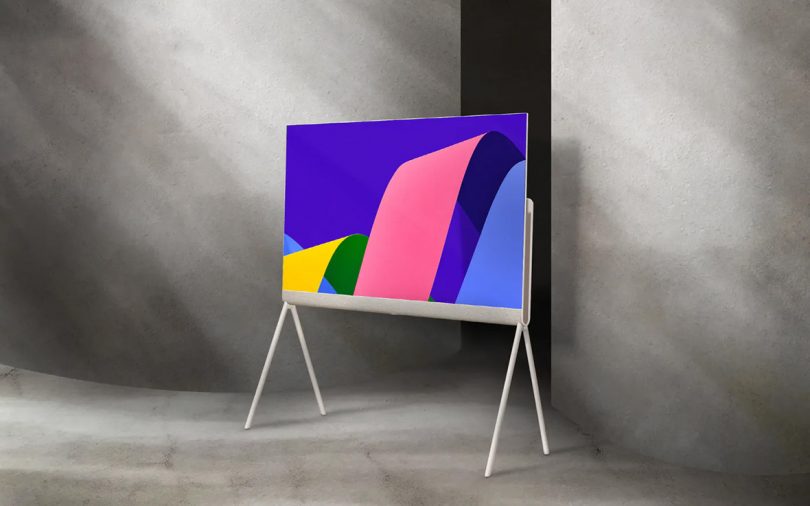 If you need any further proof consumer electronics brands are increasingly emphasizing the "home" in "home electronics," look no further than this year's 2022 Salone dei Tessuti during this year's Milan Design Week where Korean electronics giant LG showcased two of their latest OLED lifestyle televisions aiming to be seen and watched in equal measure.
Designed by Dutch lifestyle brand, Moooi, the first of the two LG OLED Objet Collection is the Posé (LX1), a split-legged whiteboard-like design aspiring to exist within the interior spaces as a "high-end furniture piece or art object." These lofty goals are manifested in a television designed to be admired from all angles with cable management prominent to its appeal and an interesting U-shaped back that allows for display storage of items like magazines, LPs, and other shallow depth items. Covered in a tastefully muted beige color the Posé proposes to be situated openly, but also capable of blending harmoniously into a decor scheme, whether in 55″, 48″, or bedroom-friendly 42″ version.
The larger 65″ Easel (65Art90) takes its design cues from its namesake, somewhat evocative of the large console projection televisions before flatscreen technology took a foothold. But this OLED is indeed thinner, vibrant, and remarkably clear, relying upon LG's self-lit display within. The Easel also has a moveable Kvadrat fabric cover that can be controlled with the TV's remote, with an integrated 80W, 4.2-channel sound system eliminating the need for a sound bar.
While the high design makes the biggest impression, LG emphasizes the inclusion of their own proprietary picture algorithms and the α9 Gen5 AI Processor will offer the highest degree of "clarity, detail, contrast and color," all hallmarks of OLED display technology.
For those looking for a non-conventional television, the Posé and Easel (alongside Samsung's The Frame, Sero, and Serif) offer a variety of form factors that eliminate the need to live with a huge piece of technology within the home, instead proposing we embrace it as part of a decor scheme. Unsurprisingly, both designs will land in high design-receptive European markets this year before anywhere else.
Source: design-milk