Lights on at LACMA
aharris
Fri, 12/20/2019 – 09:58
A Holiday Lounge with Lights, Music, Art-making Activities, and More
This holiday season, LACMA welcomes friends and families to gather for a special light display, music, and a limited-time-only menu of hot cocoas, ciders, and churros at the C+M coffee bar. Relax after a visit to the galleries in the heated and covered outdoor lounge overlooking the famous Urban Light sculpture.
Every day this holiday season there's something extra for all ages. Enjoy free art-making activities, settle in for story hour, or take a free guided tour of an exhibition.
As a special treat, Metropolis II by Chris Burden—a favorite of kids of all ages—will be in action every day of the holiday season! Check here for today's performance schedule.
Daily Highlights:
Explore what's on view right now in the galleries.
Visit the calendar for all of today's activities.

Light installation designed by PHNTM Labs and coordinated by Christine Wennekamp.

3 pm: DJ sets begin.

See the list below for

today's featured DJ.

5 pm: The lights of Urban Light turn on. Don't miss this only-in-L.A. moment.
And remember, residents of L.A. County (with valid ID) always receive free admission every weekday after 3 pm.
---
The DJs:
Music programmed by Sarah Hooper.
Sat, Dec 28
3 pm – 5 pm: MASHA
Masha is a dublab and NTS Radio DJ who plays weird and wonderful music for open-minded people. 
5 pm – 7 pm: Daniel T
L.A-based DJ/producer/record collector, Daniel T is the co-founder of the weekly L.A. international funk/disco party Heat-Wave, pioneer of the West Coast nu-disco sound, and an all-around nice guy.
Sun, Dec 29
3 pm – 7 pm: woman.
woman. is a L.A.-based collective working in entertainment, inclusion, and safety. They will be bringing us a feel-good set of all women musical artists from the last 50 years!
Mon, Dec 30
3 pm – 5 pm: To be announced 
Tue, Dec 31
3 pm – 5 pm: DJ Chocolatebarbangs
Hailing from L.A. since 2005 and weighing in at just under 80 pounds, DJ Chocolatebarbangs is inspired by her love of independent music, Lane from Gilmore Girls, The Monkees and Kathleen Hanna and serves up a wide array of good music for smiling, dancing humans. 
Thu, Jan 2
3pm – 5pm: Val Fleury
Val Fleury is a Liberian-born and L.A.-based DJ/producer, as well as co-host of 2468 Radio. Her sets openly mix house, ancestral and classic music, and has been heard everywhere from SoHo House in L.A. to music festivals in Berlin. 
Fri, Jan 3
3 pm – 5:15 pm: Allie Tielz
Known for her skills behind the turntables and style in front of them, Allie Tielz—an all-vinyl DJ based in L.A.—has spun records alongside Grace Jones, Radiohead, Arcade Fire, and M83, and opened for Frank Ocean, Haim, and Lorde.  
5:15 pm – 5:45 pm: Special Live Performance! Sunburnt Mosquito Bite
Sunburnt Mosquito Bite is a L.A.-based cover band known for its eclectic repertoire and the fact that all members are still under 18 years old. They met at elementary school in Siverlake.
5:45 pm – 8 pm: Mario Cotto
Former middle school teacher, Mario Cotto now hosts a kaleidoscopic Dada dance party on KCRW. His sound is inspired by Marcel Duchamp's ready-mades, strong coffee, the NuYorican Poet's Café, Blade Runner, Repo Records, and arroz con pollo, among others. 
Sat, Jan 4
3 pm – 7 pm: Babilonia 
Babilonia includes Russell Alexander (Making Time), Dave Peterson (Thisiswhowearenow), and Alex Pasternak (Lemonade) and offers a warming mix of Boogaloo, Cumbia, African Disco, Brazilian Groovers and other tropical sounds.
Sun, Jan 5
3 pm – 7 pm: To be announced
Short Title
Lights on at LACMA
Primary image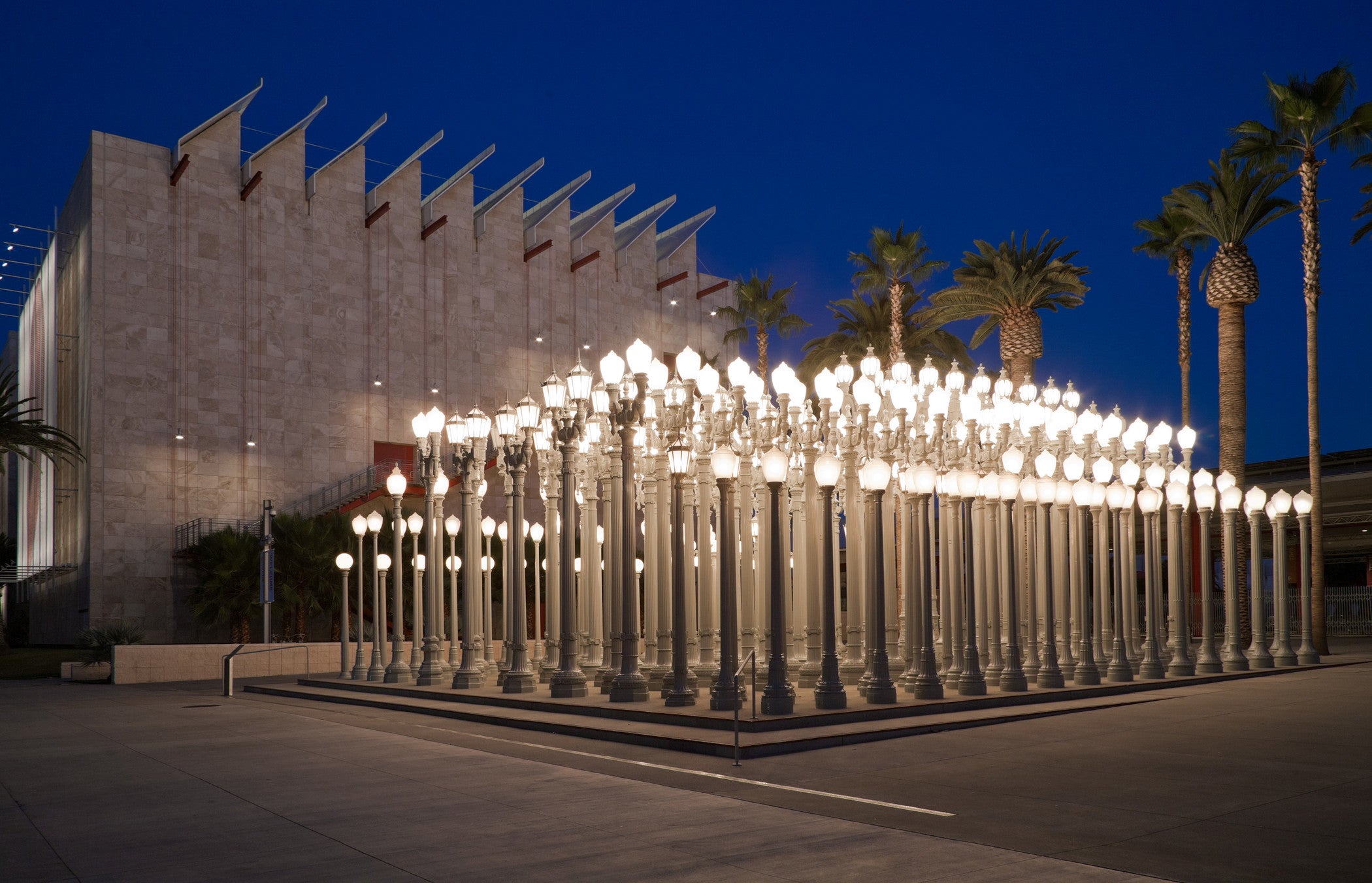 Date
Every week on Monday, Tuesday, Thursday, Friday, Saturday, Sunday, Monday, Tuesday, Thursday, Friday, Saturday and Sunday at 10:00, but not on: 01.01.2020
Sat, 01/04/2020 – 10:00
– Sat, 01/04/2020 – 19:00
Sun, 01/05/2020 – 10:00
– Sun, 01/05/2020 – 19:00
Mobile tile settings
Image tile format
Exhibition Format
On-sale time
Fri, 12/20/2019 – 09:58
Credit line – Left column
Image: Chris Burden, Urban Light, 2008, Los Angeles County Museum of Art, Urban Light is made possible by Willow Bay and Bob lger, and is open 24 hours a day thanks to their generosity. Special thanks to the Brandon-Gordon family for their founding support of the 2008 installation, © Chris Burden/licensed by The Chris Burden Estate and Artists Rights Society (ARS), New York, photo © Museum Associates/LACMA 
Ticket price
The Holiday Lounge is free and open to the public daily during museum hours.
Art-making activities and story hours are free. Tours are free with admission.
Module
Source: lacma.org