How many television designs would claim the Bauhaus as the source of their inspiration? To our knowledge, only one: the recently announced Loewe bild 5 OLED designed with German designer and creative director Bodo Sperlein in collaboration with the German electronics giant and just announced at IFA 2018.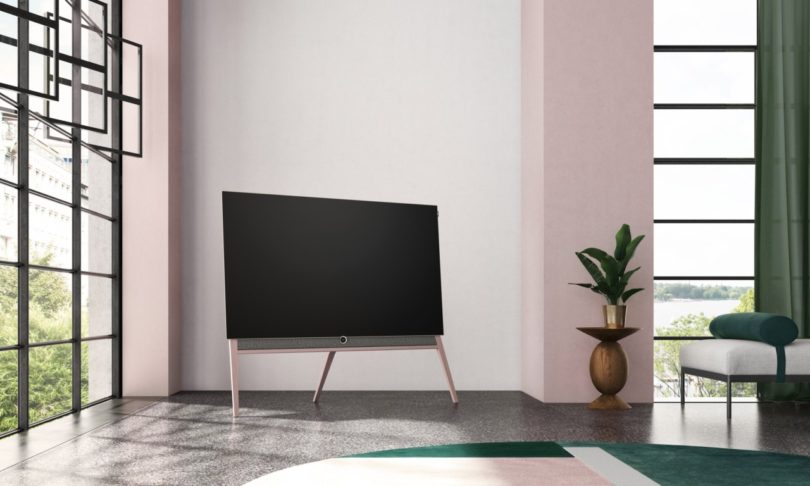 Revealed in three colors – Himalayan Rosé, Fog Blue, and perhaps most bold and daring, Citrine Yellow – each OLED television sits upon a three-legged oak floor stand. Bodo Sperlein calls the three-color palette one inspired by the theories of Bauhaus designer and theorist, Johannes Itten, one revealed on the eve of celebrating the Bauhaus' 100th anniversary.
Itten is known for identifying the relationship and efficacy of color combinations according to human perception, devising seven methodologies for color coordination guided by a hue's contrasting properties. The connection seems mostly an aesthetic exercise, one arguably connecting personalized technology with the realm of luxury home entertainment, turning the television into a design object whether on or off.
The special trio of special edition colors announced alongside Alexa voice control integration refresh an otherwise unchanged Loewe bild 5 55″ UHD OLED television with a built-in 80 watt stereo sound system and 1,000GB integrated hard drive by recording and playback. The luxury German television brand is set to bring the new colors and features by the end of the year at a yet to disclosed price.

Source: design-milk