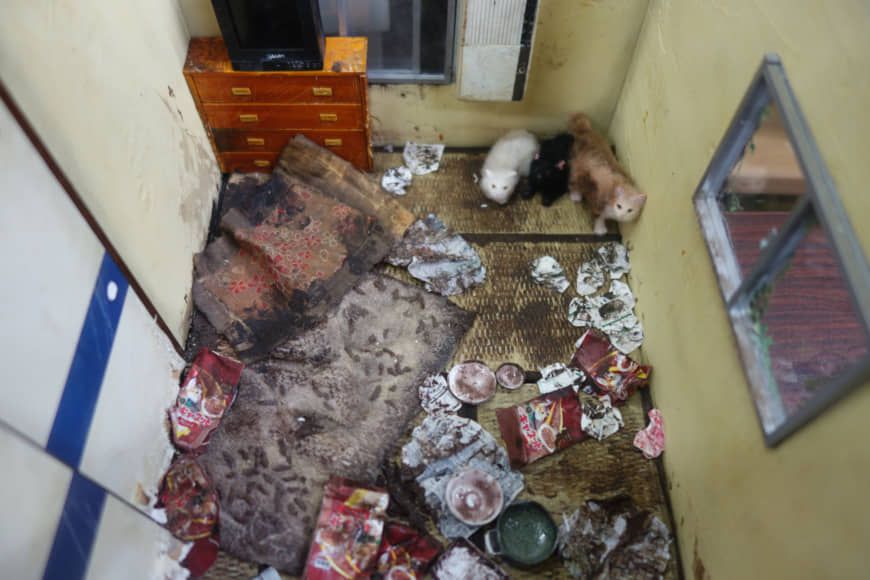 Miyu Kojima is an employee of a firm that specializes in cleaning up homes in morbid pasts. She cleans up after the kodokushi ("lonely deaths"), where people who live alone are found dead in their homes. To show an aspect of the kodokushis' lives before their deaths, Kojima creates dioramas of the rooms where they died. Her horror-esque dioramas are dark and grotesque, carefully detailed and eerily realistic, as Japan Times details:
Scattered on a circular chabu-dai coffee table are empty jars of "one-cup" sake and shōchū (distilled spirits), the moldy remains of a convenience store bento-box lunch and horse-racing stubs — hints that the inhabitant may have met his sudden, solitary death while contemplating his chances at the racetrack.
In another room, a blue tarp holding a pool of blood is spread out below a severed noose tied to a ladder leading up to the loft. On the wall, written in tape, is the word "gomen" ("sorry"), while what appears to be a last will sits on the desk.
Then there's the bathroom. Here, a red soupy liquid fills the bathtub, its contents unknown, and overflows onto the tiled floor.
image credit: Alex Martin via Japan Times
Source: neatorama