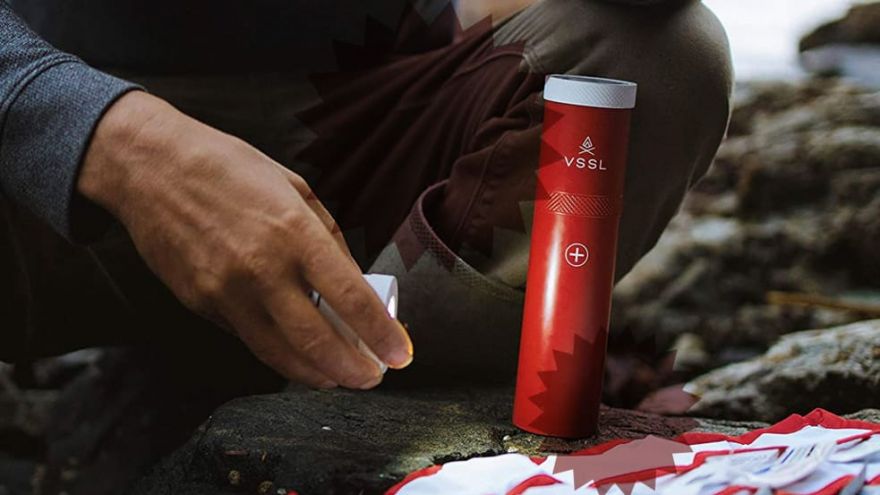 There are life situations that call for certain items. For example, if you're outside and nature calls, not all public bathrooms have the items you need for the job, so if you're carrying some wet wipes and alcohol, you'll be patting yourself in the back for bringing those items with you. Being prepared isn't a bad trait, but you can only carry so many items with you everyday, so how can you manage to squeeze in, say, a full first aid kit? The Daily Beast recommends a sleek first aid kit that can fit right in your everyday bag:
For starters,the VSSL is extremely cool looking, which makes it way more incentivizing to be prepared. It's a red tube that offers no signs of being a first aid kit. Instead, it looks like a flashlight. Because it is a flashlight. It has a four mode LED light, which unscrews as well so you can see what you're doing in the dark if need be. The other end is a compass, which is a nice touch. Inside the tube there is a roll filled with all forty six first aid essentials: from Steri wound closure strips, disposable thermometers, bandages, antiseptic wipes, a hemostatic agent, gloves, tweezers, and plenty more, you'll be prepared for every situation. Best of all, the roll folds up easily so you don't have to worry about cramming it back into the tube when you're done using it.
While the VSSL doesn't have Spaghetti O's in it (sorry, mom), it does have everything else you might need. Thanks to VSSL, I'll never forget to bring a first aid kit along with me again.
image via The Daily Beast
Source: neatorama