Los legados del intercambio: arte chino contemporáneo de la Yuz Foundation
akwong
Mon, 06/28/2021 – 18:19
Exhibition Categories
Exhibition Stops
Exhibition Objects
Tombstone
Swipe right to advance through the guide
Enable Exhibition Stop Divider
Off
Exhibition Stop Title
How to Use Exhibition Guides
Exhibition Objects
Tombstone
En el espíritu de un legado continuo de intercambio cultural entre China y el Occidente, el LACMA se ha asociado con la Yuz Foundation de Shanghái para comisariar exposiciones en colaboración y compartir el acceso a las diversas colecciones de obras de arte de los museos. Los legados del intercambio es una celebración de esta asociación y la primera gran muestra de obras de la Yuz Foundation Collection en Los Ángeles. La exposición se centra en los encuentros, intercambios y colisiones entre Oriente y Occidente, reuniendo obras de arte contemporáneo chino creadas en respuesta al capitalismo global, los conflictos políticos internacionales y el canon histórico del arte occidental.
China tiene una rica historia de intercambios materiales, intelectuales y culturales. A partir del siglo II a.C., la "Ruta de la Seda" (un conjunto de rutas comerciales) fue famosa por transportar los bienes más lujosos de su época a través de Eurasia y el mundo exterior. Estas rutas permitieron la comunicación de nuevas tecnologías y recursos, pero también dieron paso a fuerzas destructivas. No solo sirvieron como rutas de transporte de bienes como la seda, el oro y la porcelana, sino también como vías para la guerra y el imperialismo, lo que contribuyó a un legado multifacético de intercambio con China que ha durado siglos.
Enable Exhibition Stop Divider
Off
Exhibition Stop List Display Options
Inline Grouping
Exhibition Stops
Exhibition Objects
Aquí, Ai Weiwei reinterpreta un conjunto de surtidores de agua que antaño decoraban un reloj de agua de la fuente del fastuoso Yuanmingyuan (Antiguo Palacio de Verano) de Pekín. Los surtidores de agua, diseñados por misioneros jesuitas en el siglo XVIII, indicaban la hora en shi, una unidad de tiempo tradicional china que representa una doceava parte del día, equivalente a dos horas. Representaban los doce animales del zodiaco chino, cada uno de los cuales está asignado a años, meses, semanas, días y un shi.
Yuanmingyuan fue saqueado y destruido en 1860 por las fuerzas francesas y británicas durante la Segunda Guerra del Opio. Cuando tres de los surtidores de agua reaparecieron en una subasta en el año 2000, se convirtieron en un símbolo nacional del patrimonio cultural que se había perdido a causa del imperialismo occidental. Su estatus reciente, muy politizado, alimenta su valor en el mercado del arte y fervientes peticiones de repatriación.
Image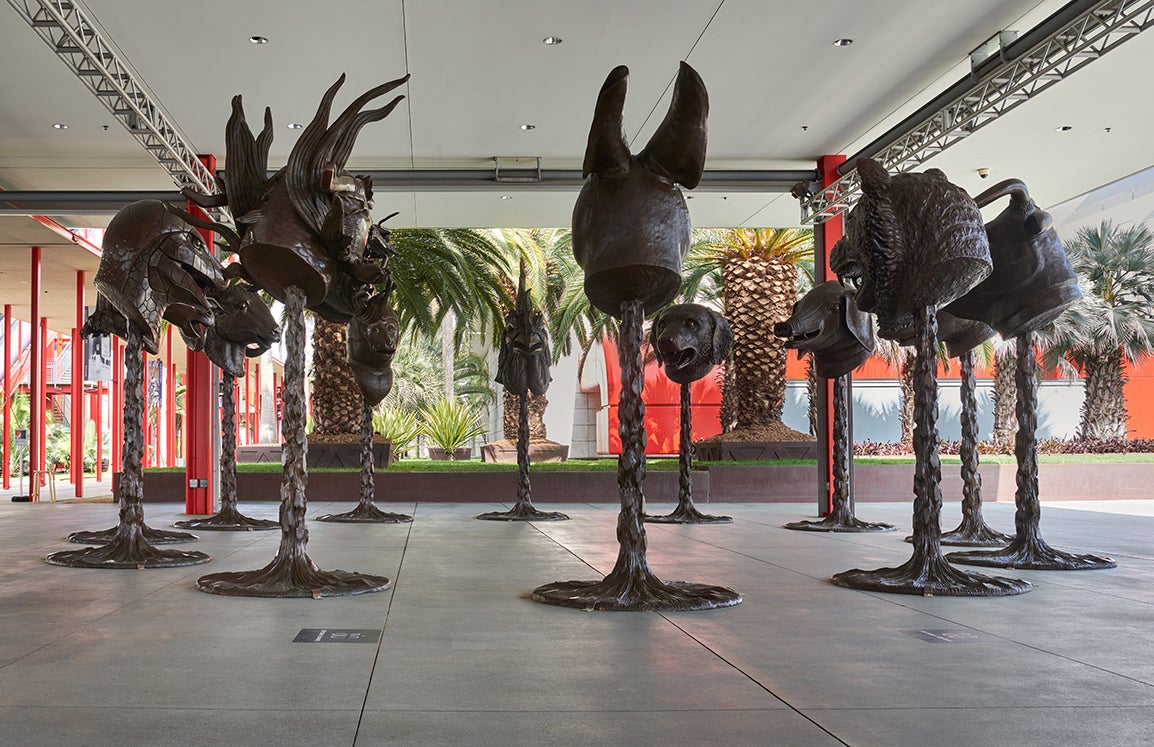 Tombstone
Ai Weiwei
China, nacido 1957, activo Inglaterra
Círculo de animales/Cabezas zodiacales, 2011
Bronce
Yuz Foundation Collection
Enable Exhibition Stop Divider
Off
Exhibition Stop Title
Circle of Animals/Zodiac Heads, 2011
Exhibition Objects
Tombstone
En 1978, la primera exposición de pintura europea que se presentó en la China moderna viajó a Pekín y Shanghái. Paysages et paysans francais 1820–1905 (Paisajes y campesinos franceses, 1820–1905) fue solo el comienzo de una afluencia de publicaciones y exposiciones de arte europeo y estadounidense accesibles, que les parecía a muchos jóvenes artistas chinos extranjero y tentador.
Nuevas prácticas vanguardistas se desarrollaron rápidamente en las décadas de 1980 y 1990, y a medida que los artistas chinos iban seleccionando sus influencias occidentales y orientales, surgió la tendencia de subvertir las pinturas clásicas europeas. Ya sea por utilizar un nuevo estilo o medio, sustituir una figura central por un personaje emblemático o reimaginar toda una escena, muchas de las revisiones realizadas por estos artistas contribuyen a dar un sentido de ironía a su obra. Por ejemplo, El dudoso, de Qiu Anxiong, sustituye la figura trágica de La muerte de Marat, de Jacques-Louis David, por un chimpancé en bata. Zhou Tiehai combina la icónica mascota de los cigarrillos Joe Camel con obras de Jean-Auguste-Dominique Ingres, Jacopo Palma y Peter Paul Rubens. Yue Minjun sustituye la figura central de Las meninas de Diego Velázquez por su característico hombre rosa que ríe. Por el contrario, Liu Wei ofrece una recreación sincera del Retrato del cartero Joseph Roulin de Vincent van Gogh.
Enable Exhibition Stop Divider
Off
Exhibition Stop Title
Romper el canónigo europeo
Exhibition Objects
En un puesto de libros ambulante del Distrito Artístico 798 de Pekín, Chen Ke se topó con un álbum de fotografías que documentaban a la pintora mexicana Frida Kahlo y su familia, y lo compró inmediatamente. Se inspiró para pintar recreaciones de las propias fotos, así como escenas de su propia vida y de su embarazo en aquel momento. Estos dibujos, esculturas y vídeos forman un "álbum" de medios mixtos de la visión de Chen de la feminidad, desde el comienzo del embarazo hasta la infancia de su hija.
Tombstone
Chen Ke
China, nacida 1978
Frida: una mujer, 2013
Medios mixtos Yuz Foundation Collection
Enable Exhibition Stop Divider
Off
Exhibition Objects
Estos cuencos de té sobredimensionados parecen llevar los motivos de las porcelanas chinas históricas; sin embargo, de hecho, estos diseños proceden de la cerámica de la Compañía Británica de las Indias Orientales, una empresa comercial explotadora (y traficante de opio) que colonizó partes del Asia del Sur, del Este y Sudoriental desde el siglo XVII hasta el siglo XIX. Aunque emulan los estilos chinos tradicionales, los motivos de los cuencos representan las banderas de varias potencias coloniales europeas, así como los almacenes que albergaban las importaciones europeas y estadounidenses durante la ocupación británica de Hong Kong (1842–1997). Productos alimenticios occidentales importados llenan los cuencos de té, cada uno de ellos marcado con una fecha de caducidad del 1 de julio de 1997, el mismísimo día en que la soberanía de Hong Kong fue transferida de vuelta a China.
Image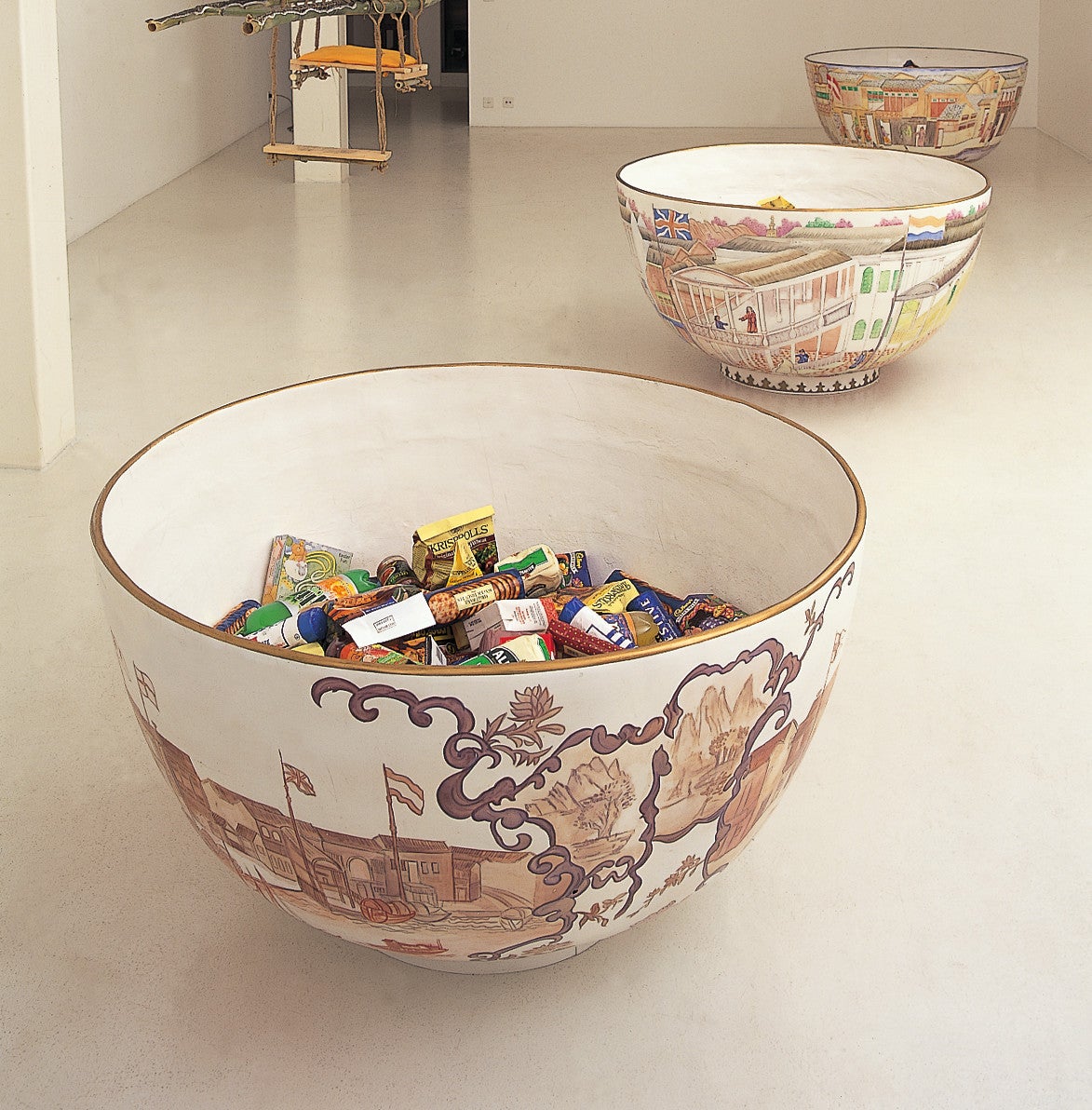 Tombstone
Huang Yong Ping
China, 1954–2019, activo Francia
Da Xian: el día del juicio final, 1997
Instalación de medios mixtos, impresión en gelatina de plata, acuarela sobre papel
Yuz Foundation Collection
Enable Exhibition Stop Divider
Off
Exhibition Stop Title
Da Xian: The Doomsday, 1997
Exhibition Objects
Tombstone
China experimentó una serie de reformas económicas para alejarse del comunismo y acercarse al capitalismo tras el fin de la Revolución Cultural (1966–76), un movimiento sociopolítico dirigido por el presidente del Partido Comunista Chino, Mao Zedong, que pretendía modernizar China mediante la destrucción y supresión de la tradición. Nike, Coca-Cola y muchas otras marcas estadounidenses comenzaron a vender sus productos por primera vez en la China moderna en la década de 1980. A medida que se relajaban las regulaciones comerciales, los productos extranjeros se importaban cada vez más en el país, dando lugar a una nueva época de consumismo y cultura de marca.
Estos cambios radicales inspiraron a muchos artistas jóvenes del momento, que vieron lo rápido que cambiaba la China que conocían. El Pop político, caracterizado por la combinación de imágenes publicitarias, la estética del arte pop y referencias al arte propagandístico chino, surgió en este periodo, reconociendo las semejanzas entre la idolatría política y el culto a las marcas. El consumismo capitalista, que ya no es un tema nuevo en el arte contemporáneo chino, hoy puede considerarse a través de la lente de su impacto duradero en la cultura y la vida cotidiana chinas.
Enable Exhibition Stop Divider
Off
Exhibition Stop Title
Publicidad y cultura de marca
Exhibition Objects
Utilizando una cámara estenopeica hecha a medida y la antigua técnica de la cámara oscura, Shi Guorui capta una imagen fantasmagórica del Estadio Nacional de Pekín, también conocido como el Nido del Pájaro, y del paisaje que lo rodea. Diseñado por el artista Ai Weiwei, el estadio se construyó para acoger los principales eventos de los Juegos Olímpicos de 2008 y fue un símbolo fulgurante de la nueva y modernizada China. Sin embargo, la construcción del nuevo estadio se vio empañada por la controversia, que incluyó el desplazamiento de miles de residentes para dejar sitio para la estructura.
Image

Tombstone
Shi Guorui
China, nacido 1964
Estadio Nido del Pájaro 25 de ene de 2008, 2008
Impresión sobre gelatina de plata
Yuz Foundation Collection
Enable Exhibition Stop Divider
Off
Exhibition Stop Title
Bird's Nest Stadium 25 Jan 2008, 2008
Exhibition Objects
Al igual que las Grandes Pirámides en Guiza o el Templo del Cielo de Pekín, el Panteón de Roma no estaba destinado a la gente común. En una serie de pinturas al óleo, Shi Zhiying compara las arquitecturas de los lugares sagrados que ha visitado en todo el mundo, destacando a menudo las formas que se repiten en cada monumento. Aunque fueron creados para diferentes deidades que abarcan culturas y periodos de tiempo distantes, cada uno de estos espacios demuestra un deseo de conectarse con una fuerza superior a través de la arquitectura.
Tombstone
Shi Zhiying
China, nacida 1979
Panteón, 2014
Óleo sobre lienzo
Yuz Foundation Collection
Enable Exhibition Stop Divider
Off
Exhibition Objects
Instalado por primera vez en un antiguo almacén de procesamiento de tabaco en Shanghái, El lenguaje del humo forma parte de la serie Proyecto tabaco (1999–2011) de Xu Bing, una exploración de las primeras importaciones de tabaco estadounidense en China y del impacto duradero de esta industria ahora prominente. De una nebulosa bruma surgen los caracteres de neón de un anuncio de 1902 que vendía tabaco británico-americano en China:
Invención del humo
El más cómodo y satisfactorio nuevo método de fabricar cigarrillos,
Hechos por máquina, nítidos,
puros y los más saludables.
Tombstone
Xu Bing
China, nacido 1955
Proyecto tabaco—el lenguaje del humo: 1902, 2004
Instalación, luces de neón
Yuz Foundation Collection
Enable Exhibition Stop Divider
Off
Exhibition Stop Title
Tobacco Project—The Language of Smoke: 1902, 2004
Exhibition Stop List Display Options
Inline Grouping
Exhibition Stops
Exhibition Objects
Tombstone
¡Gracias por visitar LACMA hoy!
Al compartir sus opiniones y conocimiento personal mediante la siguiente encuesta, usted nos ayudará a mejorar nuestras guías de exposición para el futuro.
¡Gracias por su participación!
LACMA Web & Digital Media Department
Exhibition Drawers
Exhibition Drawer Open
Off
Enable Exhibition Stop Divider
Off
Exhibition Stop Title
Agradecemos sus comentarios
Exhibition Stop List Display Options
Inline Grouping
Exhibition Guide Featured Image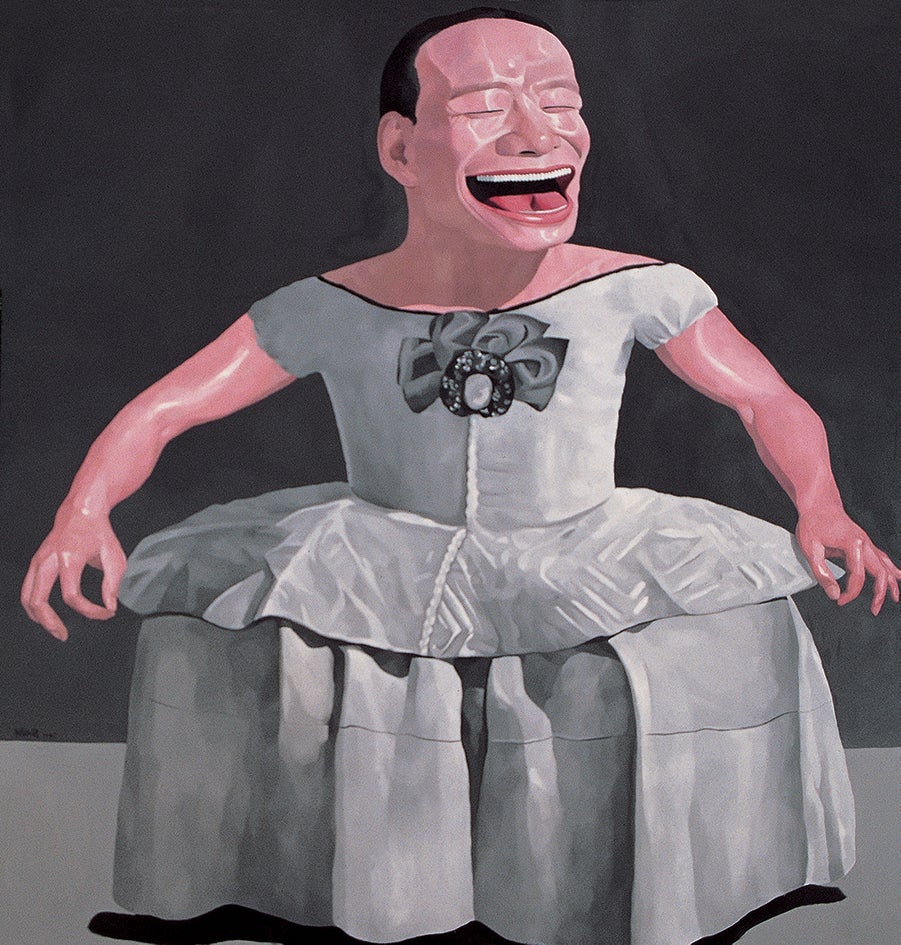 Exhibition Guide Subtitle
Resnick pabellón
Exhibition Guide Audio Embed
Source: lacma.org