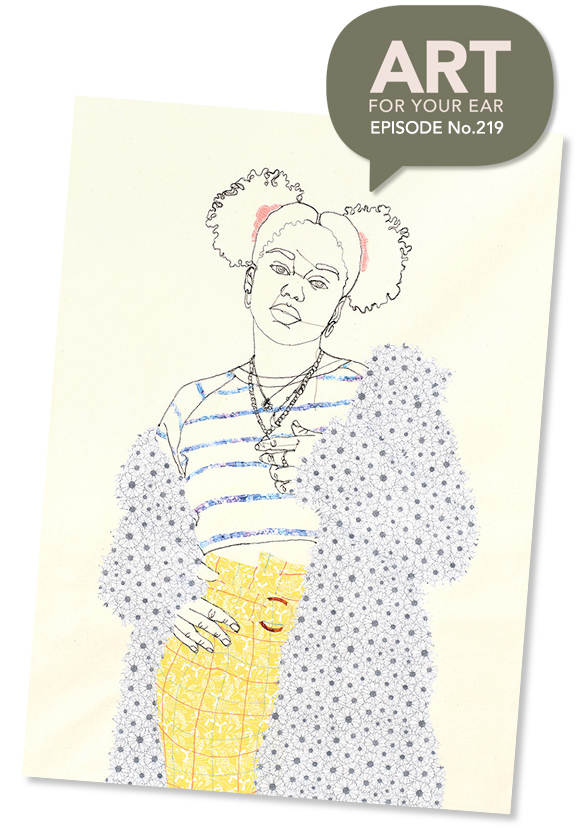 Yes, Toronto based Bahamian artist Gio Swaby is back on the podcast! I only had her on seven months ago, but since then her career has exploded… clearly, we need to hear everything! From articles in the New York Times and interviews on oprah.com, to five (FIVE!) museums acquiring her work! Also, can we talk about Gio in that dress at LACMA's "Black American Portraits" opening gala!? Okay, I just realized that I ended every sentence with an exclamation point… but HOW CAN I NOT!? Listen right up there under that gorgeous self-portrait, or download ART FOR YOUR EAR wherever you get your podcasts.
First up, a closer look at the image above, and a few more of Gio's recent self-portraits:

Drawing with thread, painting with fabric. Stunning. Speaking of which, look at this crew of fabulous women… four Swaby sisters:
These three pieces are from Gio's "Pretty Pretty" series, and these three…

… are her sisters featured in Gio's "Love Letter" series. So, so beautiful (and a pretty creative and beautiful way to say 'I love you'.) 
Next up, the "New Growth" series that hung in a grid at Untitled Miami in December:

Again, gorgeous! ps. That fabulous dress is by ÖFUURË.
Okay, from an art fair in Miami to 1-54 Contemporary African Art Fair in London:

I had to include those outtakes… Gio has such a great laugh, and here it is in action!
Okay. You guys, here is THE dress:
FABULOUS. That's Gio (wearing Greta Constantine) with Claire Oliver (galleriest-extraordinaire), Bisa Butler (insanely talented artist), and while she mentioned jumping the drink line with Paris Hilton, somehow Gio neglected to mention hanging out with Lil Nas X. Whaaat?! Yep.
And finally, a few bits and pieces of very exciting, much-deserved press:
[CRAZY APPLAUSE HERE]… ah, it's all so exciting, and honestly, I wouldn't be surprised at all if she's back on very soon to talk about another giant list of amazing stuff (book signings, anyone!?). Huge thanks to Gio for taking time to talk to me again; thank you to "Ask Ronna" Podcast for supporting this episode; and, of course, thank YOU for listening. There will be a brand new episode of ART FOR YOUR EAR in two weeks.
Other links:
Supported by : "Ask Ronna" Podcast
Source: thejealouscurator