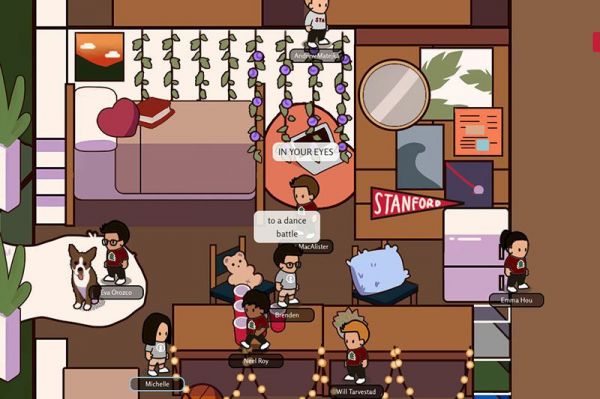 While online classes are the safest way to get an education in 2020, it's not like being there. Administration and faculty members at colleges and universities have their hands full trying to deliver online classes, so it falls to students to deal with a social life -or lack thereof- during a virtual school year. One team at the Stanford Women in Computer Science Innovation Challenge jumped at the opportunity to create Club Cardinal, an online version of the Stanford University campus that students can inhabit online and meet up with each other through both avatars and video chat.
"We made Club Cardinal as a project to allow students to experience university life again when so many campuses were shutting down and sending us home due to Covid," says Allison Zhang, one of Club Cardinal's creators and a sophomore at Stanford.

Club Cardinal is a free website designed to look like a game version of "the Farm," Stanford campus's affectionate nickname. After registering with a stanford.edu email address, users choose avatars and are assigned dorm rooms, which they can decorate with furniture and other items from a virtual store. They can explore the virtual Stanford campus via a map featuring campus landmarks, such as the Oval, Meyer Green, Main Quad, Green Library and the late-night eatery known as TAP. Each location has its own Zoom room for video chatting with other users whose avatars are nearby. Club Cardinal users accumulate money for decorating dorms by spending time on the platform and can store those savings in a virtual bank.
Students at other schools are setting up virtual campuses in Minecraft and other virtual reality platforms. Read about the new way to wander through a college campus at Smithsonian. Now if they could just do something about the tuition costs…
Source: neatorama