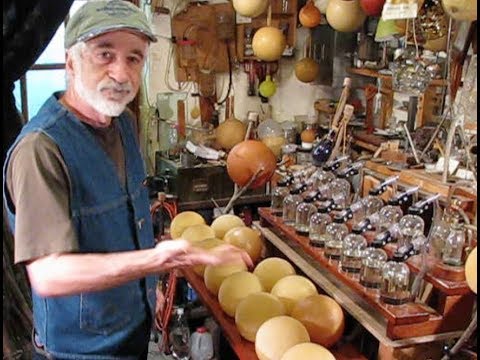 Leonard Solomon is a musician who builds and performs on unusual homemade instruments, such as his oomphapompatronium.
His latest instrument is a bottle organ, which he controls with air bladders next to the bottles. In this video, Solomon performs "Papageno's Song" from Mozart's opera The Magic Flute.
As you can see in this video, Solomon is not only a performer of music, but an entertainer who engages with his audience. In an interview about this work, Solomon describes the bliss of gelling with his audience:
One of my favorite moments performing, was in a big stage show in Jordan Hall, Boston, a grand old concert hall. I was part of a show called "A Taste of Passover." in which I was doing short 5-minute bits in between the other acts. In one of my entrances, I was planning to play just the first few measures of a song on a harmonica, before going into the comedy routine. But when I started the song, the people started humming along. It was an old familiar Jewish melody, and they all knew the tune. So instead of doing the routine as I had planned, I just kept playing the song on the harmonica. The whole audience was swaying back and forth and humming along with my simple music, and for a timeless minute, I felt like I was in a dream; as if I had seen this experience in a vision, long ago. It was one of the sweetest moments I've ever had on stage.
-via Geekologie
Source: neatorama