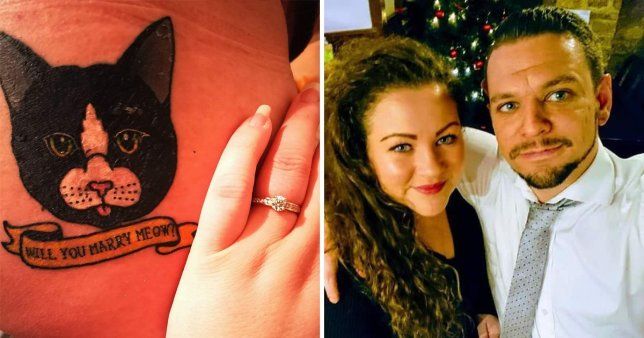 Sixteen years ago, I dropped to one knee to present a ring to my future bride as we relaxed at the alligator pond behind her library. It was an unoriginal approach and I would have done better to take that of Dustin Marshall of Hertfordshire, UK.
Marshall got this charming cat tattoo etched into his butt, then mooned her after a game of pool at a bar. He did so, planning to take advantage of a rule of the game that requires one player to drop his or her pants under certain conditions. Metro explains:
Lindsey, 30, from Hertfordshire, explained: 'He orchestrated it so he would get "seven-balled", where the black is sunk when one player still has all seven of their balls on the table.
'Our rule is you have to pull your pants down if that happens, so he just pulled down his trousers.
'I looked over and said: "What's that on your bum?"
'He walked over to me and I could see that it said: "Will you marry meow?" with a picture of our cat.
As you can expect from such a romantic gesture, she said 'yes'!
-via Dave Barry | Photo: Lindsey Norman
Source: neatorama