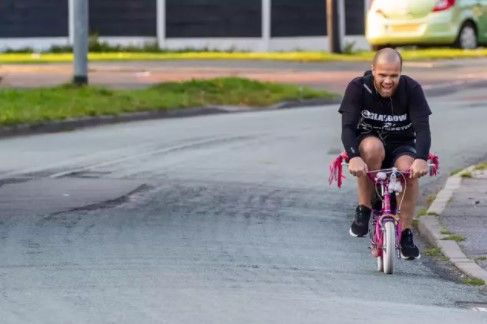 On September 21, at around 6PM, a 37-year-old man from Wythenshawe, named Wesley Hamnett, finished an incredible feat of travelling 230 miles in six days on a bike. But he did not ride on a grown man's bike, but on the bike of a little kid — his daughter's pink bike. Why did he do all of that, you ask? For charity, of course!
So far, he's raised an incredible £6,000 – including offline donations – and all the money he has raised will go to a selection of charities, including Macmillan, Christie Hospital, British Heart Foundation and his local hospital in Wythenshawe.
[…]
He explains: "The main reason is that my grandparents all passed away, the last one was last year – my grandad Fred.
"That was a bit of a sad time really, knowing that I'd not got any grandparents left. So I thought, 'I want to do something significant,' you know, to raise money for the people that have helped them all through our lives."
Sharing the details of his plans on Twitter, Wes said that if he could get 1000 retweets on his post, he would do it on his daughter's bike, rather than his own – and so he did, which must have looked unusual to say the least.
Hamnett tells his story over at LADBible.
Wow!
(Image Credit: Enda Burke/ LADBible)
Source: neatorama