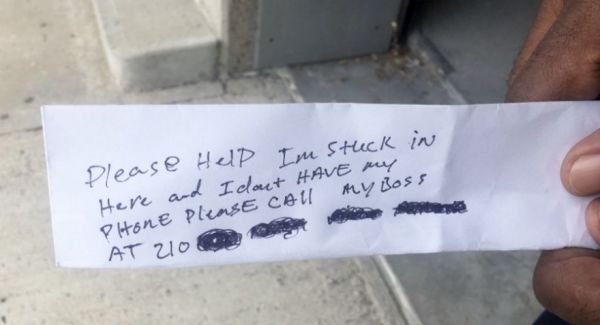 If you went to an ATM to get some cash, and instead of a receipt, you got a note asking for help, you'd probably look around trying to find the hidden camera. That's exactly the kind of thing Candid Camera used to do. But for bank customers in Corpus Christi, Texas, on Wednesday, it was a real plea for help. The note came from a contractor stuck in the room behind the ATM. He was changing out the electronic lock and something went wrong, leaving him stranded inside. Corpus Christi Police Senior Officer Richard Olden told the story.
Officer Olden says," he leaves his phone in his truck, he's installing a new lock on the door, and he gets locked inside the building where the ATM is."

Since the ATM still works, people were stopping by to get cash, and the contractor decided to slip out notes through the receipt slot stating,"Please Help. I'm stuck in here, and I don't have my phone. Please call my boss."

Officer Olden said people thought it was a joke, but someone took it seriously and called the police.

"We come out here, and sure enough we can hear a little voice coming from the machine. So we are thinking this is a joke. It's got to be a joke," Olden said.
His employer arrived, but police still had to kick down the door to free the man. -via Boing Boing http://boingboing.net/2017/07/13/man-stuck-behind-atm-slips-h.html
Source: neatorama