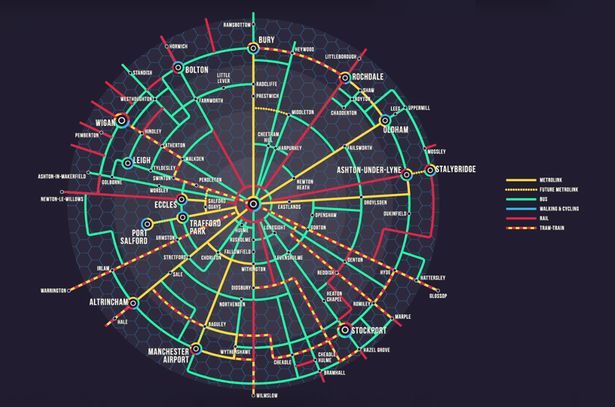 In any urban area, one of the primary things that local governments should try to think about is the efficiency of its transport systems as the economy now relies heavily on them. With this in mind, proponents of the Tube for Greater Manchester have unveiled a proposed map of what they envision Manchester's transport network to be.
Andy Burnham has unveiled a map showing how he wants the conurbation's transport network to look by 2029. The mayor also announced 1,000 new park-and-ride spaces by the end of 2020 and a bike hire scheme due to be launched next year.
Ambitions to have devolved control over 'suburban' commuter railway lines are on the map too, as well as Chris Boardmans' 'beelines' cycle and walking network. Calling the resulting vision 'a tube map for Greater Manchester', he said he would be publicly accountable to the public for the network.
(Image credit: Tube for Greater Manchester)
Source: neatorama