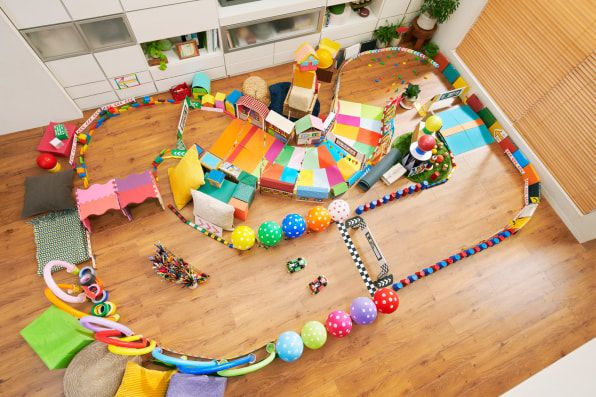 Of the many types of games that are available for the Nintendo Switch, you wouldn't expect that a simple kart-racing game would outsell them all. But, as they say, simplicity is beauty, and that's what Mario Kart 8 Deluxe is. It's simple, fun, and addictive, and that's why it's the top best-selling game in the game console, with 26.74 million sales. Nintendo, however, decided to take the fun to the next level: by taking the races, as well as the characters, to your own home in physical form, literally, through a new Mario Kart title, Mario Kart Live: Home Circuit.
The latest edition in the series isn't just a video game. It's an actual remote-control kart. Fit with a camera, you drive it around your house like a drone, turning your floor into a racecourse populated with virtual competitors and all the familiar Mario Kart tropes like heat-seeking turtle shells and Bowser's pesky offspring.
Mark Wilson tested the game with his family over the past weekend. This is what he has to say:
Whereas most mixed-reality experiences feel like technical demos, Mario Kart Live is an incredibly entertaining mix of what's happening on the screen and on the floor. But its real appeal is how it will make you appreciate the disorder of your own home.
[…]
After spending a weekend playing Mario Kart Live, I've decided it's not really about the toy. It's actually a machine that's built to turn your whole home into a toy. And as many of us are hunkering down, prepping for a long winter, I couldn't imagine a more apt gift than something that helps you celebrate the cramped chaos of home.
Check out Wilson's story over at Fast Company.
(Image Credit: Nintendo/ Fast Company)
Source: neatorama