The entrance to Lana Lane Studios stands surreptitiously in an alley between a Volvo dealership and the SALT strip mall in Honolulu's Kakaako neighborhood. One of Nychos' peeled-back skeleton creatures blazes across the entrance to the repurposed warehouse that's been a second home to local artists since 2012. These days, it's the central nervous system of a Hawaiian art and design community diverse in age, medium, genre, but united in ambition to make Honolulu a positive place for creatives.
Members range from illustrators and filmmakers to photographers, textile artists, motorcycle designers, skate shops, an architect who designs kites, and the headquarters for popular international street art festival POW! WOW! Hawaii. Lana Lane provides not only studio space, but a buffet of events, classes, and personal connections that knit the community together. Since founders Jasper Wong, Kamea Hadar, and Jeff Gress began filling it with furniture made from scrounged industrial leftovers five years ago, Kakaako has transformed from a collection of warehouses and auto body shops into a commercial district.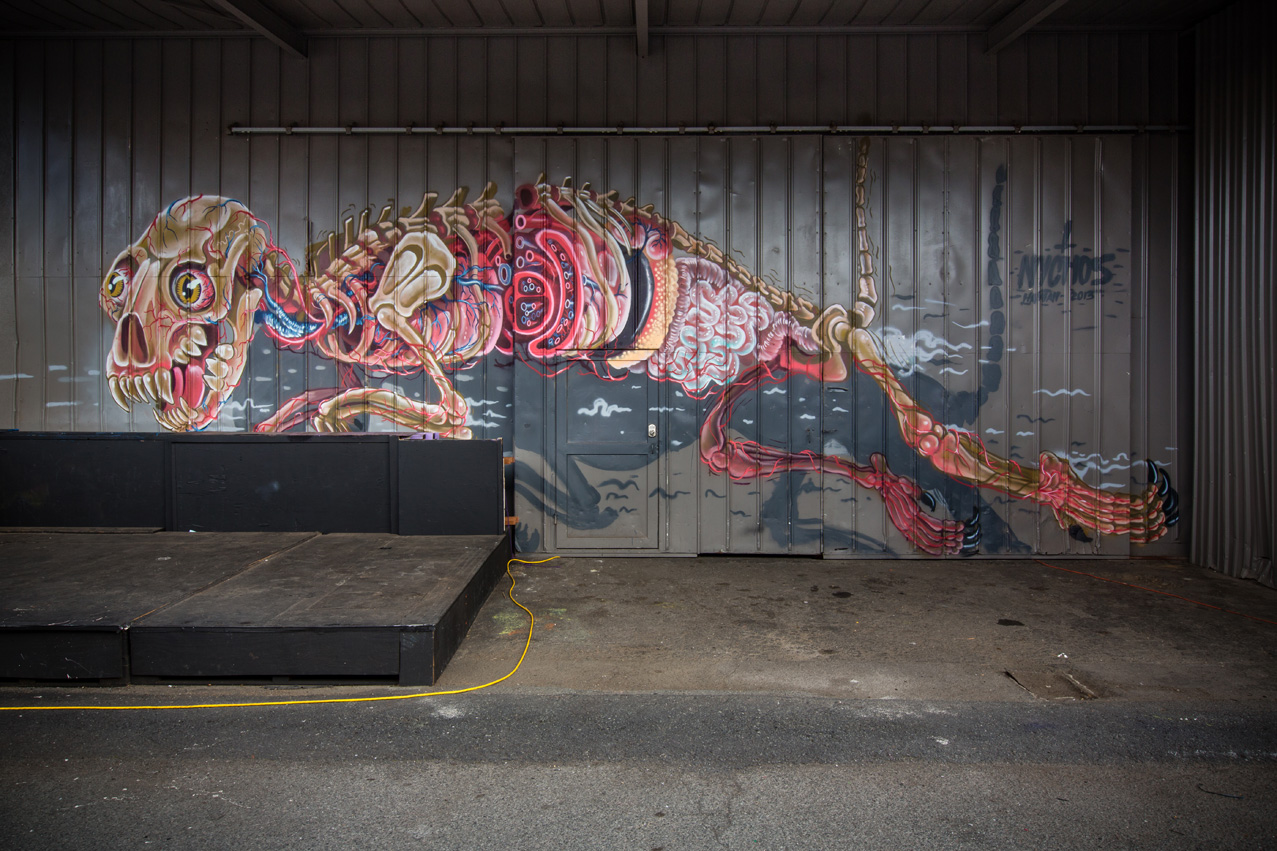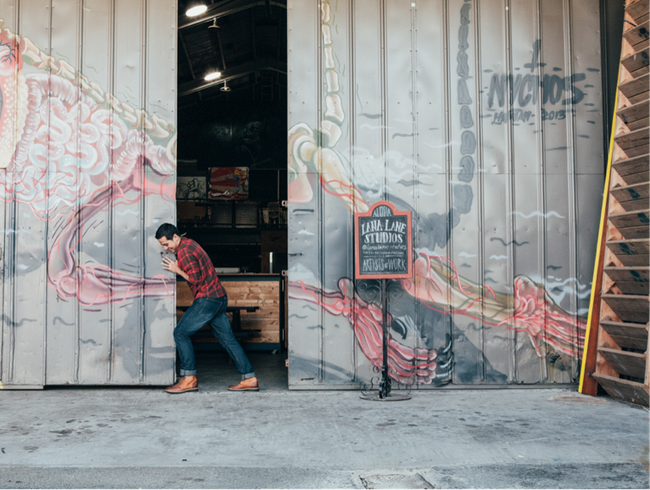 Lana Lane has carved out a place for itself as a fixture of the local community, hosting charity concerts, film screenings, and music and art classes for local youth, and events like Adobe's Creative Jam. Prestige, however, doesn't pay the rent in the now-prosperous neighborhood. "The hardest part about running Lana Lane is managing a group of artists to focus and pay money on time every month," Gress tells Creators. The distributed nature of the group can be a challenge, but it's also Lana Lane's greatest strength. "We use the momentum of a collaborative group to push the identity as a whole," he explains. "The space has an identity of its own. Making that identity have a value is imperative."
That identity is founded on the idea of collaboration. Gress recounts the many times it paid off to have a house full of creatives working side by side. "It's great to be able to knock on someone's door and ask about Photoshop, or getting a score for the film," he says. Professional collaborations abound, perhaps most notably when graphic designer Gavin Murai made a cover for musician Nick Kaleikini's album with his grandfather, local legend Danny Kaleikini. Daily responsibilities are also divided amongst the crew, such as illustrator, painter, and performer Hadley Nunes time spent writing copy for the website. Everybody works, everybody, cleans, everybody contributes.

The collective's other secret sauce dates back to its foundation. Similarly to Santa Fe art collective Meow Wolf's arrangement with Game of Thrones author George R.R. Martin, Lana Lane benefits from the patronage of Hawaii's largest private land owner, Kamehameha Schools. The private school system is the legacy of old Hawaiian royalty, providing free education to students whose ancestors were native to the islands. Prior to Lana Lane's foundation, the group had worked with POW! WOW! Hawaii to authorize murals on their property. When they needed a more permanent art space, Wong, Hadar, and Gress went to the school system and got a great deal.
Gress says, "Kamehameha Schools recognized the value of programming involving the community, so they reduced our rent from market rate. We didn't have a lot of investment capital, nor did we want to." 
Work ethics and friendly landlords, however, might not be enough to keep up with the local economy. Gress tells Creators, "We're right in the middle of the developing narrative of Honolulu. Rent is going up and we might have to move."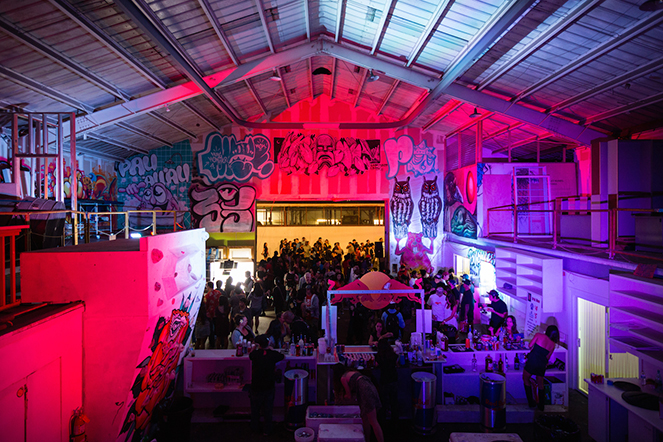 Shiny high rises now cast their shadows over Kakaako's warehouses, and real estate investment is flooding in from China, Canada, Japan, and the continental US. Art impresarios also have their eyes on the islands, including the inaugural Art Hawaii International art fair opening in November with the stated goal of "cater[ing] to a global audience with an innovative cross-cultural contemporary art event in one of the most extraordinary destinations in the world."
On the other hand, Lana Lane is only one part of a strong creative community in Honolulu, including a set of artist lofts in Chinatown that have survived since 2000, and an affiliated gallery and performance space called Arts at Mark's Garage. Gress adds that, contrasting the affluence flooding into the city is becoming more friendly to passionate DIYers. "There have been a lot of maker-types popping up around the corner from Lana Lane, using CNC machines and blacksmithing and metalworking," he says.
Gress' advice to those creators looking to make their own art spaces is simple: "Have a big team, with a lot of people to consult. And really get a good idea of what you're getting into."
Learn more about Lana Lane Studios on their official website, and follow them on Instagram.
All year, we're highlighting 50 States of Art projects around the United States. This month, we're covering Illinois, Indiana, South Carolina, North Dakota, and Hawaii. To learn more, click here. 
Related:
How to Get a Legal Wall for a Mural
Honolulu's 'Graffitification' Problem Can't Stop the POW! WOW! Art Festival
Meet the Faces Behind Street Art's Tropical Getaway
Source: vice.com