The Game Changers. The Rule Breakers. The Innovators. Discover some of the fantastic emerging talent showcasing their work at The Other Art Fair.
The Other Art Fair exhibitor Alec Cumming's vibrant, dynamic paintings call-to-mind memories from exotic places of times gone by. Alec's compositions soak the viewer in complementary tones that make the canvas vibrate and an overwhelming desire to explore sunnier parts of the world (especially in 2020!). Read on to discover where Alec gets his inspiration from and how being in isolation at home in Norfolk has affected his practice.
Tell us about who you are and what you do. What is your background? 
I'm Alec Cumming, I'm a painter from Norwich, Norfolk in the UK. I studied at Norwich School of Art and Design (I graduated in 2007). I then spent several years working in a studio in Delhi in India and it became a really informative part of painting for me and led me to the current place I am within my work. I am currently living back in Norfolk and I have a studio in the countryside which luckily I am able to get out to everyday. I make oils on canvas and works on paper using watercolour and Posca pens. I am constantly influenced by the places I travel to, Sri Lanka, California, and Cyprus and this year, having not been able to travel much, Norfolk!
If you could describe your work in 3 words, what would they be? 
Bold, colourful and energised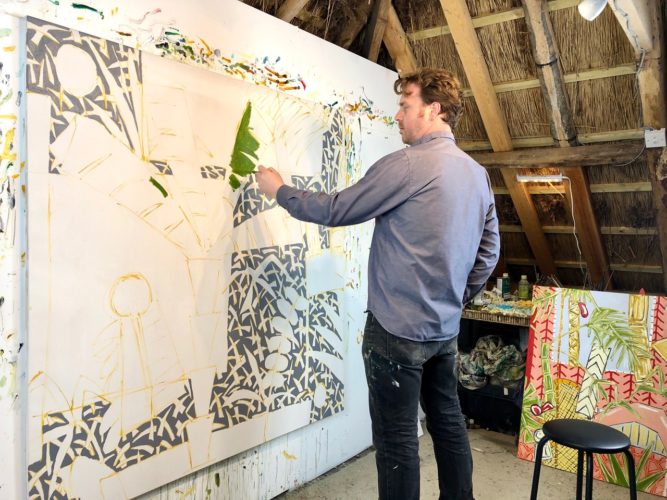 Can you walk us through your process? How do you know when an artwork finished? 
My paintings come from spaces I know, that can be fabrics, places, an interesting space between buildings seen whilst walking in the street, a moment glimpsed whilst laying poolside, or even a collection of observed objects, tyres stacked on the road or a table laden with drinks and other bits. I see it as that funny thing the brain does when the eye invites you to linger for a moment, focusing on a single point of reference that consciously or subconsciously I enjoy.
The process is that of a physical one. I spend a lot of time drawing, taking photographs and making notes, either in situ, or when I'm back at the studio in response to those places. These then become my painting vocabulary, a bank of imagery and shapes in which to conduct a painting, similar to someone conducting a piece of music. For me it's lyrical and I am searching for that quality that resonates off of the surface. I don't refer to these drawings as studies for bigger paintings, but they are more of a dictionary that is stored with me.
Many of these important elements are enhanced by a desire to explore the way light in enhances compositions I look at, bright harsh light that makes colours pop, a shimmering haze feeling.
When I approach a canvas or work on paper I set out with a vague idea, something like a sensation rather than a representation. The painting is completed for me when many of these elements, forms, objects, light come into to focus for that split second. It's at this point, the painting is done. But that can be the trickiest moment to find and you have to catch it exactly right. Over time I have become much more certain of finding it but it requires focus and clarity on my part as the painter, which can sometimes easily be missed!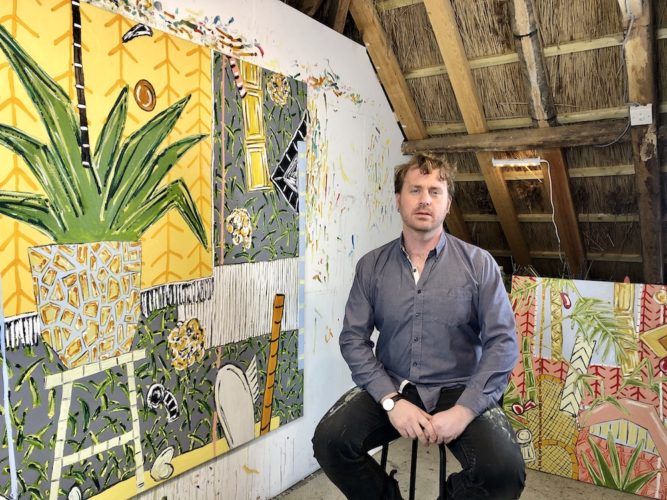 Has being in isolation affected your artwork practice in any way?
My artwork has definitely been affected by isolation I think that the main source of my subject matter comes from exploring new things and going on adventures (even in Norfolk!) to capture new memories and places. It has been hard to adjust to being nearly completely static in my studio this year, and it's definitely changed things for my paintings.
On the plus side having been confined to just home and the studio, I think a lot of the most recent work I have made this year has found me looking more inside myself and reacting and responding to past thoughts, moments, and memories.
Looking forward it will be interesting to see how these thoughts change my works once I do find myself able to get out again exploring as the world outside of my studio and Norfolk hopefully begins to safely open up again in 2021.
What is the best advice given to you as an artist?
I think the best advice given to me has been to make honest paintings. Don't try to fulfill a certain style, feel brave and confident in the marks that you make and make them your own.
Can you tell us something about you that people would be surprised to hear?
I was once featured as an artist on a magic show on Sky TV.
Shop artwork by Alec and other trailblazing artists at The Other Art Fair's Online Studios.
Introducing The Other Art Fair Online Studios, a new online platform offering art lovers around the world access to over 800 Fair artists. The Online Studios will keep our community feeling inspired, engaged, and continue to spread joy through art.
Source: saatchiart.com