The Game Changers. The Rule Breakers. The Innovators. Discover some of the fantastic emerging talent showcasing their work at The Other Art Fair.
Dan Monteavaro dba MONCHO 1929 (Puerto Rico, b. 1975) is originally from South Bronx, with an art practice that expands to London, Milan, Los Angeles and Seoul. Being deeply influenced by global aesthetics and the urban artwork that surrounds his daily life. Moncho 1929's practice continues to evolve yet stays true to challenging contemporary societal notions.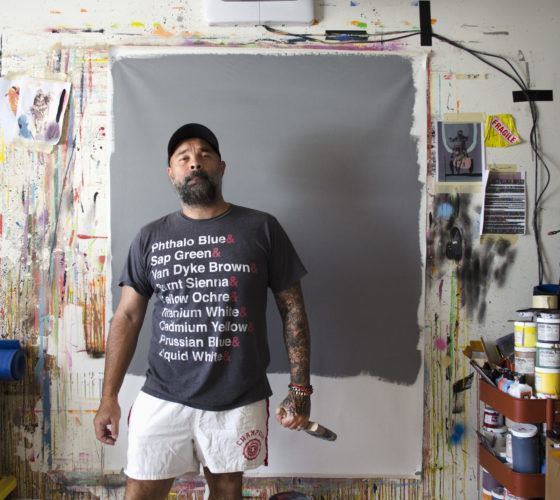 His work has been featured in various solo and group exhibitions all over the United States, and the world such as the Perez Art Museum in Miami, or Gallery Ann in Seoul, Korea.
---
Q&A with the Artist
Tell us about who you are and what you do.
 

What is your background?

I'm a fine artist based currently in Los Angeles and I'm originally from The South Bronx in NYC where I started with art seeing my cousins run with the old school graff guys in NYC.

Those guys pushed me at a young age to get into art school and go the gallery route, so I went in with that, doing apprenticeships in sculpture at St John the Divine and getting as much exposure in as many artforms as I could ( tattooing apprenticeship, metal sculpting, painting, ect)

I realized painting was my preference but all those other artforms helped me develop my work in different ways.
What are the major themes you pursue in your work?
My work always revolves around contrast in some way, whether its juxtaposing color and shapes or images and narratives.
The contrasting of things is what I find really interesting and creates new conversations.
How did you first get interested in your medium and what draws you to it specifically?
Painting just seemed right for me. I enjoy the challenge of manipulating a 2 dimensional surface and the material limitations.
How has your style and practice changed over the years?
My style of work evolves from series to series and for the most part usually stays within 30 works before beginning to evolve ( I say for the most part because the current series "Chimera" is almost at 62). As far as how it has changed, the conversation changes over the years and that begins to change the work.
Can you walk us through your process? How long do you spend on one work? How do you know when it's finished?
My process begins usually conceptually going over themes and works in my head while doing anything mundane. Odd as it sounds, I feel that the creative side of the brain can begin to rest and explore when you're on "autopilot". Sometimes letting your brain wander and explore when you're cleaning, or doing anything mechanical to me opens up the creative process.
Then after sketches, I put them up in the studio and live with them for another few days to a week ( something a tattoo artist told me about "getting familiar with forever" with a tattoo design), and then I paint almost exclusively at night. I prefer night time painting because it keeps interruptions at a minimum.
And when is it finished? It never truly is I feel. I think the missing part is the conversation you have with the work. The critical thinking and back and forth the viewer has with the artwork is the final component.
What series or project are you working on next?
With Covid, things have slowed on a few large projects, so I'm enjoying the forced studio time.
What is the best advice given to you as an artist?
"You'll never be fully satisfied with a work of art that you create." -Bob Ross
"The why" of a work is more important than "the what."
"Don't forget to eat some food."
Shop artwork by Dan Monteavaro and other trailblazing artists at The Other Art Fair's Online Studios.
Introducing The Other Art Fair Online Studios, a new online platform offering art lovers around the world access to over 800 Fair artists. The Online Studios will keep our community feeling inspired, engaged, and continue to spread joy through art.
Source: saatchiart.com