The Game Changers. The Rule Breakers. The Innovators. Discover some of the fantastic emerging talent showcasing their work at The Other Art Fair's In-Person Chicago Fair this September. 
Meet Gray and Johnson Art a duo local to Chicago that works together to create exciting and innovative works. The pair have created a technical process of laying their art pieces to combine their individual skillsets. Throughout Gray and Johnson's work you can find a plethora of mediums including, drawing, digital art, photography, painting and pen and ink – They really have it all!
We asked Gray and Johnson Art a few questions about their work to get to know them a little better…
Tell us a little more about your practice?
We work collaboratively on all aspects of our art business from concept of ideas, themes, titling pieces, creating the work, working on submissions, social media, packaging, shipping, book keeping and everything in between.
We created a technical process of layering our works in which we merge our individual skill sets that include, drawings, digital art, photography, painting, pen and ink. Through this technique we are able to tell stories with an urban, pop art, digital mixed media style while working collaboratively in a raw and organic format. Recently, we added working with a simplistic energy, no less powerful than before, by creating positive and negative shapes along with direction and linear prospective that is not to proportion or scale.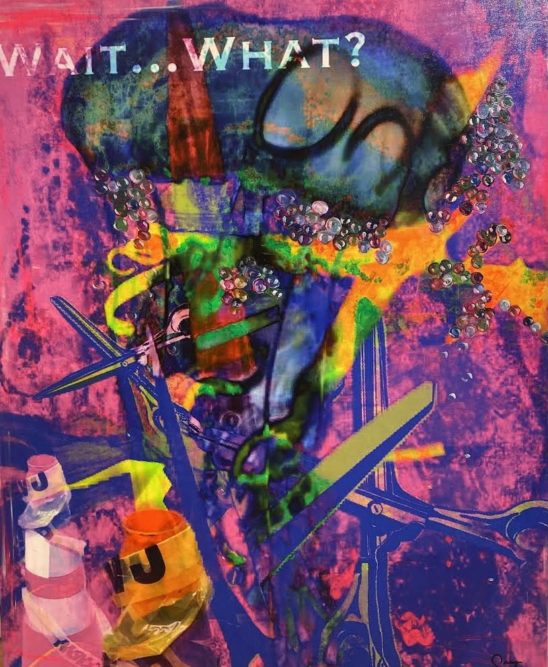 You capture your surroundings so beautifully, do you have specific messaging behind your use of bold color and overlay imagery?…
The use of bold and bright colors typically brings the feeling of joy, hope and excitement to those that view our pieces. Through these color choice and overlay of imagery, messaging is boundless. If Alice and Wonderland is the metaphor, our art work takes you down the rabbit hole…but every time you enter into Wonderland, it grabs you emotionally and leads you down
a different path.
Your pieces capture many things, how does the urban landscape feature in your works? 
The urban landscape acts as the glue/anchor of the piece. It allows all other aspects of the art to fill the canvas with energy to tell many stories.
Have you been working on anything new in your studio recently? 
Interestingly enough, we recently started working on a new concept that we touched upon in the first question that incorporates the use of line and contrast of color. We wanted to show positive and negative shapes along with direction and linear perspective that is not proportioned or scaled. This new body of work isn't always about what is drawn, rather the empty space surrounding it.
Most of these pieces do not have a digital component to it, but some will as the last step to be layered on top of the drawn work instead of starting out with the digital and having hand work layered on top, allowing us to combine the mediums.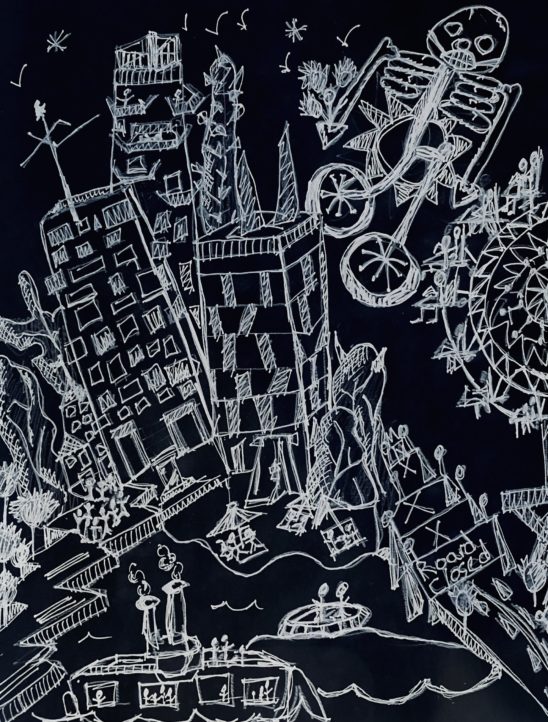 What is the best advice you can give to an aspiring  artists? 
The best advice we can give to to an aspiring artist is that failure doesn't need to be negative thing, rather an opportunity to walk through another door and experience something different you might not have before. Failure will lead to continued growth and success. Also, always make sure to copyright your work-being in a digital age any image can be stolen and used as their own.
This year marks our third edition of The Other Art Fair Chicago, with well over 50% of exhibiting artists being Chicago locals, you are sure to get a real sense for the city itself. Along with many artists coming from out of town, this years Fair will offer up a great selection of works!
Head down to The Other Art Fair Chicago, 30 September – 03 October 2021 to meet Gray and Johnson Art and hundreds of other artists at our new venue Revel Fulton Market.
Source: saatchiart.com