Meet Julia Brampton and Phill Calvert, the Melbourne-based husband and wife collaboration behind Kitty Calvert – one-off sculptures encompassing the practice of "treasure hunt and treasure build."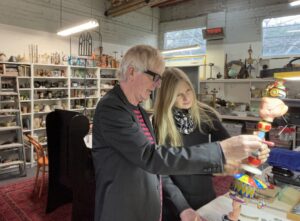 The sculptures of Kitty Calvert are assemblages of vintage, upcycled treasure – lost and then re-born with a new purpose, for a new audience. Through the use of such treasures, the sculptures speak to fond memories of the past: the biscuit tin in your grandmother's kitchen, the doll who was your best friend as a child, the ice cream scoop that meant dessert was on its way. They are objects we may have let go off as our lives evolved or as we grew up.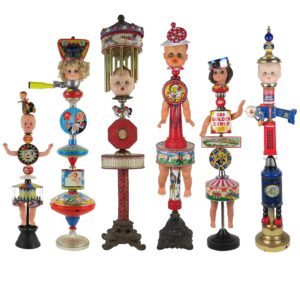 Although the objects differ visually and in function, together they "speak" to one another in sculptural form. 
"[The assemblage] makes us laugh and share stories and sometimes even feel a little sad.   Ultimately there is such joy in the process of creating as each assemblage rises from the collection of found and gathered objects and appears in its new form, with a new lease of life, a new personality and a brand new spirit," say the artists. 
The individual objects used therefore have a mnemonic beauty, with each piece left in its original state with the patina, paint, dents, scratches and "bed hair" all part of the history of the piece and the life that revolved around it.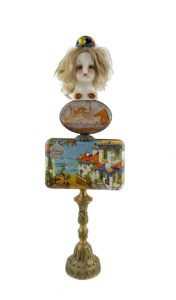 "We invite the viewer to reflect on the potential journey each piece has made to its final resting place inside the Kitty."
Kitty Calvert sculptures are symbolic of revival not only in the way they resurface past memories and stories, but also in how they bring life and a new persona to inanimate objects that would otherwise be sent to landfill or forgotten. For Julia, the amount of waste generated by society as a by-product of modern manufacturing and overconsumption, lead her to the treasure hunt behind Kitty Calvert. Similarly, Phil's craftsmanship and understanding of the materials when combined, ensures the works are engineered to last another lifetime. 
Making their debut at The Other Art Fair, December 1-4, Kitty Calvert joins a line-up of 135 game changing artists exhibiting their work in the expansive space of The Cutaway.
Source: saatchiart.com