The Game Changers. The Rule Breakers. The Innovators. Discover some of the fantastic emerging talent showcasing their work at The Other Art Fair.
The Other Art Fair London exhibitor Maxwell Fine creates 'fabulously indulgent' typography artworks to 'inspire and change the world'. Maxwell's bold artworks all have truly meaningful message beyond the words in front of you; to empower people to take control of their wellbeing and mental health, and his advice for artists is simple – Make art that matters. Read on to find out more.
Tell us about who you are and what you do. What is your background? 
After training at Central Saint Martins I embarked on a decade long career in TV and Advertising design. As an Art Director for a multitude of broadcast projects, I work with my team to craft Sets, style shoots and make projects visually sing. My career has allowed me to travel the world, work with high profile clients on brilliant scripted projects and no day is the same!
In 2018 I decided to revisit my personal journey creating artwork that speaks to my life story. I work with a strong sense of moral compass and my artwork seeks to empower people to take control of their mental health and wellbeing. Working with typography as a theme, I strike statements that whilst may be ostensibly generic, highlight in plain sight the psychology of what it means to be Human.
If you could describe your work in 3 words, what would they be?
Unapologetic, Bold, Blunt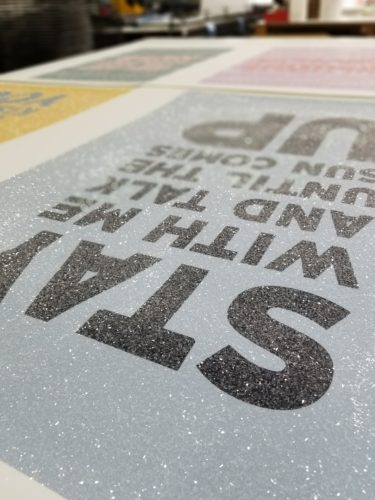 Can you walk us through your process? How do you know when an artwork finished? 
I break my process down into several stages. I am a lover of words and working with typography, I play with various structures and sentences until the statements within each piece find their rhythm. Sometimes the rhythm finds a natural rhyme and sometimes there is a disjointed pattern that finds a more colloquial route. I often enjoy the brashness of my work most notably found within my neons.
Once the type is settled I work on the colour. I have a vast appreciation for colour and its impact on the human mood. I tend to gravitate towards pinks and blues but sometimes punctuate with oranges and yellows. Much like the words finding their own pattern, I find that colours seem to settle in a similar way. I have an acute awareness of tone, hue and saturation that allows me to tailor each colour to contrast seamlessly with colours placed along side. I often like to look at a collection as a whole and work out a palette that brings it all together.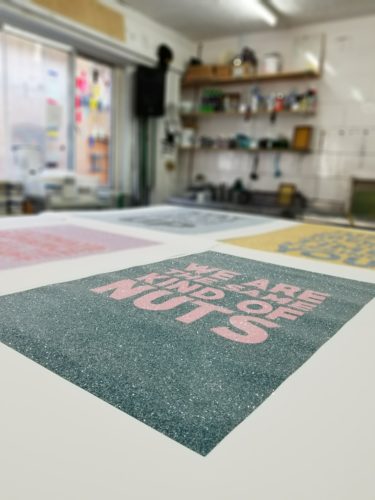 Has being in isolation affected your artwork practice in any way?
I created two neon pieces in isolation 'Be Nice' and 'Fuck It'. For me, working in Neon was always a natural segue from print. I come from a sculptural background and often find it easier to flesh out a piece in three dimensions. I love layering materials and working with light to really make a statement piece.
My print work is often fully coated in Diamond Dust which enables the artwork to glisten and shimmer as the light changes in the room it is displayed in. I love love love this element and find that the refraction and reflection of light in my print work is sometimes the most interesting part to view!
What is the best advice given to you as an artist?
The best advice given to me as an artist is to work with purpose. My artwork would be soulless and empty without the message it seeks to portray. I work to raise money for the charity Switchboard LGBT+ Helpline, to which a percentage of my sales are donated to. Switchboard are on hand to offer support to anyone struggling with coming out, going out, mental health, sexual health and anything in between.
My debut project ROBBED was was born from a partners struggle with his sexuality, his identity and his place in this world.
It is my job as a creative to highlight themes that are important to me through my work. I always ask myself if the work I create exists to challenge, to change or to prompt conversation and if it doesn't – it doesn't get made!
Can you tell us something about you that people would be surprised to hear?
I hate typography.
Shop artwork by Maxwell and other trailblazing artists at The Other Art Fair's Online Studios.
Introducing The Other Art Fair Online Studios, a new online platform offering art lovers around the world access to over 800 Fair artists. The Online Studios will keep our community feeling inspired, engaged, and continue to spread joy through art.
Source: saatchiart.com