The Game Changers. The Rule Breakers. The Innovators. Discover some of the fantastic emerging talent showcasing their work at The Other Art Fair.
Sam Mathers grew up in Raglan, New Zealand. He Has traveled and lived all over the world working as a full time artist. Sam is a hoarder of images, objects, consumer brands, everyday objects and creatures that inhabit his world. All these come together in a kind of symbiosis of connectedness. What draws us into his works is that we share much of his world. A kind of familiarity is felt. His influences come from the graphic nature of much of the commercial world together with the organic goodness of the rural scenes through which he travels to beaches where he surfs.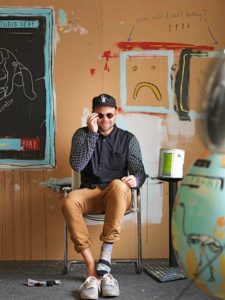 ---
Q&A with the Artist
Tell us about who you are and what you do.
 

What is your background?

I am a 36 year old full time artist painter for the past 10 years now. Father to two boys Van 1 and a half years old and Ryder 5 years old. I live with my partner Laura in Raglan, New Zealand were I was born.

I surf nearly every day its been a lifetime passion and keeps me happy and fit. I used to get paid to Surf and travel the world through my surfing sponsorships. During this stage of my life I was also working as a graphic designer. I worked as a Freelancer designing corporate logos – fashion and digital. The 10 years I have been making a living painting full time. I have exhibited work around the world in group shows. I have had many sell out solo shows here in NZ. Today I have one exhibition a year in my own Gallery and the rest of the time I am painting commissions and showing work throughout NZ in a select few Galleries.
How has your style and practice changed over the years?
I used to just draw and paint my work. Now I build it up with a lot more layers I use a water spray bottle to make drips and to wash back parts of the painting. I use a hair dryer to move the paint around too.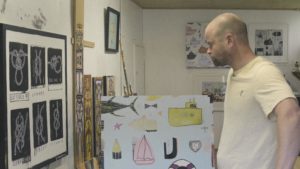 Where do you draw inspiration from and what does your work aim to say?
Inspiration comes from life, being happy with my surroundings. My work is not meant to say anything particular. It can mean so many things as people look at it for years and still find new things in my paintings. I would rather the viewer to decide what it means.
Who are your biggest influences and why?
Cy Twombly I enjoy the way he painted those large rose paintings and the way he uses pencil, crayon and Acrylic together. Jackson Pollock because he struggled to make it as an Artist but kept on going until he found his path and succeeded. Basquiat because you cant stop looking at it. There is so much to look at and understand. Thrush Holmes another Artist inspires me with his freedom of the way he paints and the scale of his paintings. The way he bends neon lights into abstract figures work well through his work.
What was the best advice given to you as an artist?
never give up, listen to your gut. Paint what you like. Never paint what you think someone else will like or will sell good.
Can you tell us something about yourself people might be surprised to hear?
I feel more comfortable in the ocean than land.

Shop artwork by Sam and other trailblazing artists at The Other Art Fair's Online Studios.
Introducing The Other Art Fair Online Studios, a new online platform offering art lovers around the world access to over 800 Fair artists. The Online Studios will keep our community feeling inspired, engaged, and continue to spread joy through art.
Source: saatchiart.com