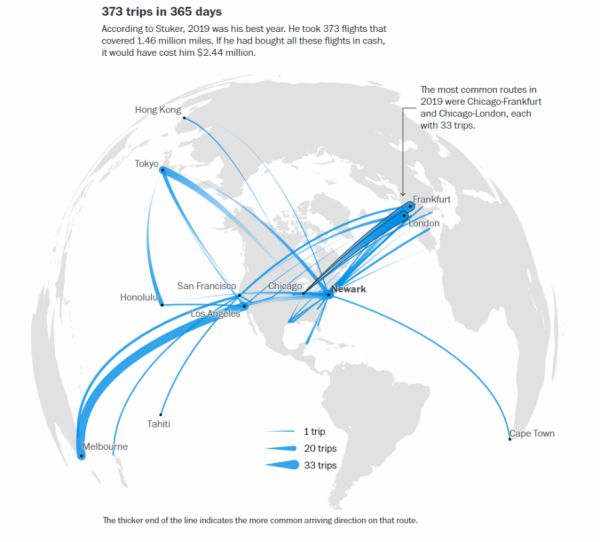 In 1990, United Airlines offered a lifetime, unlimited pass for flights. It cost Tom Stuker of New Jersey $290,000, but with that pass, he's flown 23,000,000 miles, which is equivalent of three round-trip journeys from the Earth to the Moon.
Pictured above is an infographic created by the Washington Post, which interviewed Stuker. It shows just one year of flights. As you can see, he averaged more than one per day.
United Airlines doesn't offer his special pass anymore, but it doesn't resent his hustle. He's treated like royalty by the airline and given luxury hotel stays, gourmet meals, and limousine service as Stuker travels over the world.
Stuker is arguably the world's foremost expert on airline travel and offers advice to flyers. This includes telling flight attendants that he remembers them from previous flights, even if it's a lie because they'll provide extra service. That may be unethical, but he's certainly correct about his final piece of advice: if you use your cell phone, use headphones instead of playing the speaker.
That should be common courtesy, but is occasionally uncommon.
-via Flowing Data | Image: Washington Post
Source: neatorama