The following post is brought to you by Bend Goods. Our partners are hand-picked by the Design Milk team because they represent the best in design.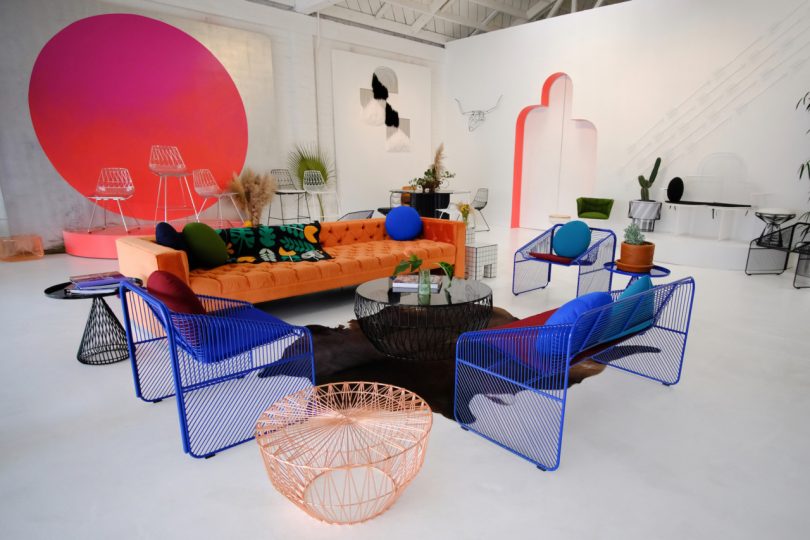 While wire furniture isn't a new concept, in our opinion, no one does it better than our friends at Bend Goods. Founded by Gaurav Nanda in 2010, the brand's collection of original furniture and accessories is instantly recognizable in homes, offices, hotels, retail spaces, and trade shows all over the world. With its signature playful designs and colorful finishes, the collection can insert itself into any space of any kind of style (and if you don't trust us, a quick Google search will back this statement).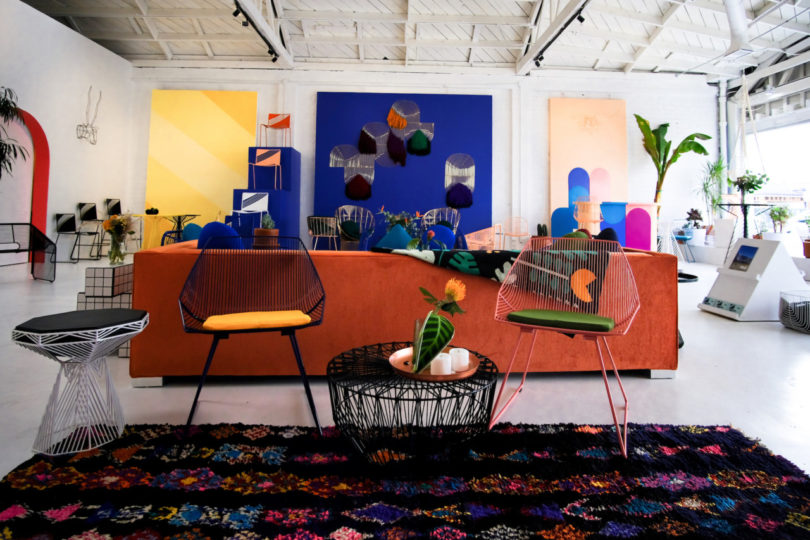 Bend Goods has undergone many changes, including a name change, expanding beyond seating, and setting up office headquarters in a home rather than an office (appropriately called the Bend House – see our video from the first Bend House). However, all those milestones seem to pale in comparison to their most exciting undertaking yet, a brand new showroom and studio space! Visitors to Los Angeles' design district will want venture down Melrose Avenue a little further east to visit the vibrant new storefront. Outfitted with different vignettes on every wall, the showroom feels like 1970s game show set if it wasn't for the modern Bend furniture adding the proverbial exclamation mark in each corner.
It's been eight years since Gaurav founded Bend Goods, so we caught up with him to learn more about Bend Goods' journey, the changes he's experienced in the retail and design industry, and what the opening of brand's first ever showroom means to him. Keep reading for his golden nuggets of wisdom…
Why did you pick neighborhood and storefront?
For one thing, it is close to my house. I can walk to the showroom :). But really, we looked all over Los Angeles for three years until we found a spot that felt like a good home for Bend. The building itself is an old warehouse space with bow truss ceilings located on Melrose Ave, so it has a ton of character. Growing up, I would watch the TV show Melrose Place and that's how I became familiar with that street. Never would I have ever dreamt that I'd have had a storefront on Melrose Ave.
For those who don't know, how did the name Bend Goods come about?
Bend got its name from the bending of wires. We originally were called Bend Seating because we concentrated on chairs but we quickly realized we wanted to do other things so we changed our name to Bend Goods. Each piece is machine-molded and undergoes upwards of 400 handmade spot-welds—a process we refer to as bending. Each bend is carefully arranged to ensure structural strength. The angles of the back, the curves of the seat and the closeness of the wires are placed a quarter inch apart for comfort.
When did you decide that it was the right time to open a showroom?
I started the company as an e-commerce platform out of the living room in my loft in Marina Del Rey. As my team grew the idea of needing more space grew as well. We decided that renovating a house and making Bend a full design lifestyle experience was the way to go. A house brought a sense of comfort that you don't get from an office. After a few years in a house we realized our needs were growing, we were running out of room and it was time to put on our "big boy pants" and open a showroom. We needed a photo studio and a place to actually design and build prototypes. Visibility was another major factor—opening a showroom on a high traffic street was great for brand awareness. People can stop in or at least drive by, see our product, and hopefully visit us online or in person.
What's one of the challenges you've had with opening the store?
We had to do a lot of work to the showroom space: knock down walls, build new walls, paint ceilings and floors. During the construction phase, we hung gold streamers covering all outside the building, with no signage. The gold color would fade to silver and then we hung other colors on top of it. It was fun to build some mystery in the neighborhood of what was behind the metallic curtain. Finally, we removed the streamers and people have commented it was like a big reveal to the community.
Have you worked on other stores before opening this one? What lessons or learning curves can you share?
This is the first store I have ever designed. I have renovated homes before, so a lot of the experience I gained from that helped me on the designing and constructing of the showroom. The biggest lesson for me is to make decisions fast to keep it moving. If something doesn't feel right, don't sit on it, make the change and move on.
What's your favorite item in the store right now?
One of my favorite items is the Cloud Bench (pictured above). We created a special installation called the Cloud Room made special for the Cloud Bench where we have clouds hanging from the ceiling. We wanted the showroom to be an Instagram-able wonderland and my favorite spot is the Cloud Room.
Is there a theme to the showroom collection this season?
I wanted the showroom to be a fun, inviting space but yet dramatic. We first added tall archways, which added a lot of architectural character. Some of the archways we wanted to be able to section off at times, so we added sliding doors to them. The way the sliding doors were moving reminded me of game show set in the 1970s, which became a big part of the inspiration for the showroom. There was always a dramatic reveal in the 1970s game show and I wanted to create that effect in the showroom. The colors, the patterns, the vignette shapes all played into the showroom concept. We added accent colors like avocado green and harvest orange that were often used during that time period. At times, it kind of feels like you are in The Dating Game or The Price Is Right.
Are you carrying any new products you're getting particularly excited about?
Last year we introduced the Art Piece, which uses our signature metal wire material formed into separate pieces for a flexible arrangement. This interactive design allows you to arrange the pieces any way you'd like to create your own unique arrangement for your walls. This year we took the Art Piece a step further and made it the Macramé Art Piece inspired by the bright colors and wild patterns that shaped 70s art. We hand crafted macramé yarn into the Art Piece. Made locally right here in Los Angeles, each unique design combines our Modular Art Piece with elegantly woven yarn, giving it that genuine look of craftsmanship.
What's been a consistent best seller?
Our most popular range in our collection is the Lucy Side Chair and her Bar and Counter Stools. Our Lucy Chair is definitely our most recognizable design and has been used in restaurants and contract applications all over the world. The only change that we continually make to her is the colors that she is available in. She comes in a variety of powder coated colors, metallic finishes (we just added chrome), and also we can make her in a custom color.
Are there any special events, exhibits, pop ups or collaborations coming up?
We just had our showroom opening party, which was a great success with over 200+ people attending. It was a lot of fun! (Note from Design Milk: We agree! If you were following our Instagram Stories over on @designmilk, you now know that Bend Goods knows how to throw a party!) We will continue to have events in the showroom as we want to make it into a community space where artist can exhibit, have performances, design talks and special dinners. In December, we are planning a holiday market where we will invite other vendors for consumers to purchase gifts for their friends and family.
Do you have anything from the store in your own home?
I have a bunch of things that are Bend in my home. My favorite is actually the Stick stool. It's a simple stool with a slender base and backless seat that can be easily tucked away under any counter.
You founded Bend Goods in 2010. How has your business evolved over the last eight years?
Consumers buying habits have changed. They want convenience and want to make purchases immediately, which is why we hold stock at our warehouse for quick ship. We have heavily invested on improving our online presence from our website to social media. In the beginning social media was not even something we had time to concentrate on. Now it's a big part of our marketing strategy. In the future, we see people buying directly from an outlet like Instagram.
The design industry has also changed a lot. There are a lot more people trying to copy what we do, so it can be frustrating to see but the only way for us to continue to grow is to make unique, interesting products.
What does opening your first showroom mean to you and your business?
Opening a showroom / studio space is probably one of the biggest accomplishments for Bend. It carries lots of responsibility because we want it to have a positive impact to the community. We want to really utilize the space and hold special events such as a classical pianist performance, electronic sound baths, design talks, special dinner events, or even yoga classes.
For my team, the showroom is a place for us to experiment and be creative. We will use it to take pictures, make videos, meet clients and prototype new product designs.
For the consumer, our goal is to create a fun experience when you walk into the space and get inspired. We will show people different ways the product could be used. Consumers can test how comfortable and sturdy it is… putting their feet up, maybe even reading a magazine or having a drink while they're relaxing.
What's one lesson you've learned since opening your store?
We are still trying to figure this out. We call it more of a showroom / studio space rather than a store. We all know that the face of retail has changed and people do more of their purchasing online than ever before and a brick and mortar store is less relevant. We are treating our new showroom / studio space as an extension of our online social media and website. When people walk into our store, we want them to experience that online world we have created over the last eight years and turn it into a tangible physical world. Make it friendly, and a fun inviting environment.
If you could give one piece of advice to someone who wants to follow a similar path to yours, what would it be?
If you have an idea you are excited about, just work on it. Start small. Be passionate about it. Every day you will add something to building your vision and eventually, all the little things add up and become something bigger than you could have ever imagined. The very essence of entrepreneurship is a trial and error process.
Check out Bend Goods' new showroom the next time you're in town at 7007 Melrose Ave, Los Angeles, CA 90038 and visit them online at bendgoods.com.

Source: design-milk