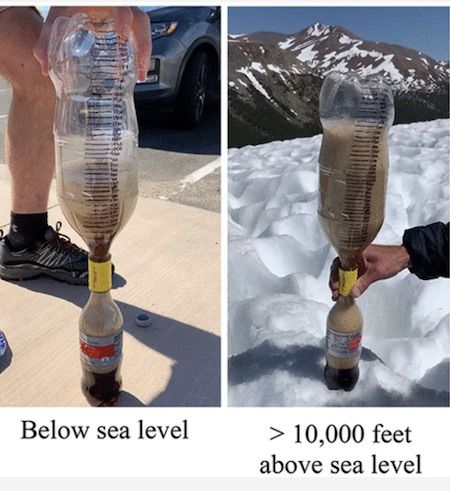 We know for a fact that an eruption happens when Mentos is added to a Coke drink. But did you know that the eruption differs in intensity depending on altitude? Authors Tom Kuntzleman and Ryan Johnson showed this phenomenon on their study published in the Journal of Chemical Education.
Tom Kuntzleman writes at Improbable Research:
Ryan Johnson and I recently examined the effect of altitude (and therefore atmospheric pressure) on the Diet Coke and Mentos experiment. To do so, we carried out the experiment in many places around the US at altitudes that ranged from below sea level in Death Valley to over 14,000 feet at the top of Pikes Peak. We had an absolute blast.
The more you know!
(Image Credit: Tom Kuntzleman and Ryan Johnson/ Improbable)
Source: neatorama