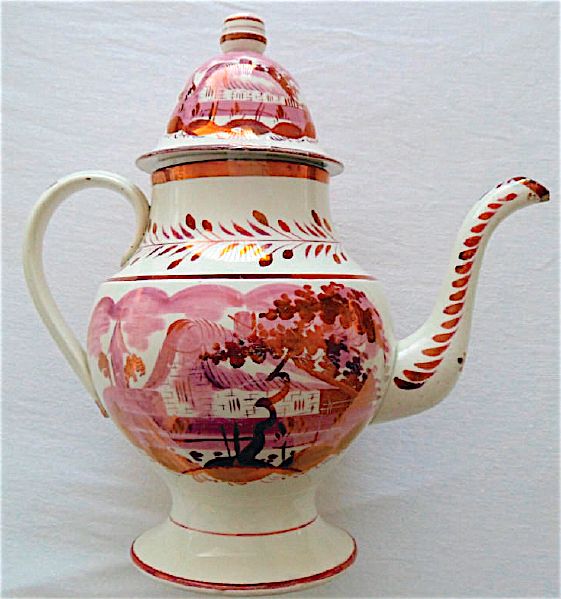 It's one thing to collect a particular kind of pottery, but quite another when those pottery pieces were manufactured by one's own ancestors. Tony Patterson's brother discovered that their great-great-grandfather made pottery in the north of England. In fact, there were quite a few Pattersons involved in the business in the 18th and 19th centuries. But those pottery pieces were hard to find and/or hard to identify. They weren't mentioned in Geoffrey A. Godden's An Illustrated Encyclopedia of British Pottery and Porcelain, so the family pottery must have been a cottage industry. Or was it? Further research revealed that the Pattersons had rather large pottery manufacturing operations.
For a while, there were plenty of "capital clay pits" to keep the Gateshead area potteries supplied with the raw materials needed for their exports to Norway and customers in the British Isles. Eventually, though, business was good enough for the extended Patterson family that clay had to be brought in from Cornwall, which had been supplying Staffordshire potteries with white clay for porcelain since the end of the 18th century. "In the course of my research," Patterson says, "I found a bill for clay that was transported from Cornwall up to Gateshead." A second piece of evidence indicating the size of the Gateshead ceramics industry was a newspaper advertisement placed by George Patterson, in which he expressed his interest in purchasing 200 tons of clay to keep the 60 men, 26 women, 32 boys, and 15 girls working at his earthenware pottery on Sheriff Hill productively occupied.

The potteries in and around Gateshead, then, represented far more than a minor cottage industry. Geography aside, how could the Geoffrey Goddens of the ceramics world have missed them? In the end, it may have been nothing more than a routine case of ingrown conventional wisdom. "I wrote Godden when I was beginning my research," Patterson says. In his book, Patterson describes Godden's response as "far from enthusiastic." "It motivated me to prove him wrong," Patterson says. "Perhaps if he'd let me down in a gentler fashion, I might not have proceeded."
Tony Patterson wrote his own book, 19th Century Patterson Potters and Pottery, to chronicle his family's surprisingly prominent place in England's pottery manufacturing history. Read how all that came about at Collectors Weekly. 

Source: neatorama