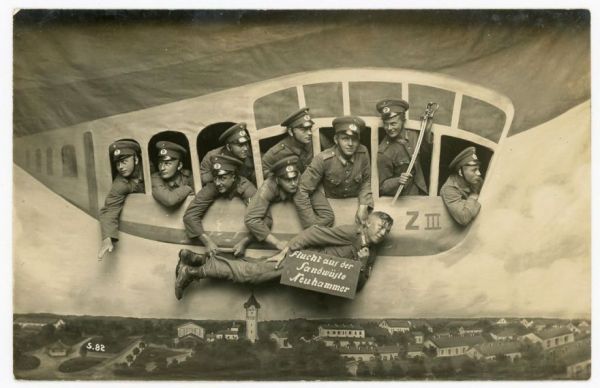 These guys aren't in a zeppelin; that's a photo prop, possibly at a fair or amusement park. But they are real German soldiers, training at Nuehammer Military Camp between 1910 and 1912. The silliness of the photo is a stark contrast to the horror of the war to come.
These military portraits collected by Christopher B. Steiner, a professor of art history and anthropology at Connecticut College, capture moments of both folly and formality. The juxtaposition of faux props and real people is often curious and visually confounding. Some images appear to be staged to accentuate silliness; while others are posed with almost comical self-seriousness.

The photographs range in time from the beginning of World War I to the close of World War II. While the majority are German, the collection also includes some images from France, Holland, the United States, and the Baltics. Removed, momentarily, from the madness and brutality of war, these souvenir portraits capture moments of camaraderie and humanity.
See a gallery of these vintage military prop photos at Mashable.
Source: neatorama