The following post is brought to you by Mondaine. Our partners are hand-picked by the Design Milk team because they represent the best in design.
Attempting to update a beloved design invites great risk. How do you evolve a long-lasted design without ruining the very elements attributed to its classic status? Swiss watch maker Mondaine solved this dilemma by innovating from the inside out: the new Mondaine SBB essence is a sustainable iteration of one of the most iconic timepieces in history, one redefined by innovation not immediately apparent at first glance.
There are few timepieces as recognizable as the legendary Swiss railway (SBB) clock, a design that, with the help of Mondaine, has aged gracefully from its analog-era inception by Hans Hilfiker in 1944. The clock's uncomplicated black and white face paired with a rufescent second hand is modern in perpetuity, as boldly captivating as a Barbara Kruger piece in its identifiable contrast. The aim of Hilfiker's design is reductionism, in that adding anything else would be too much, and omitting any detail would leave it wanting.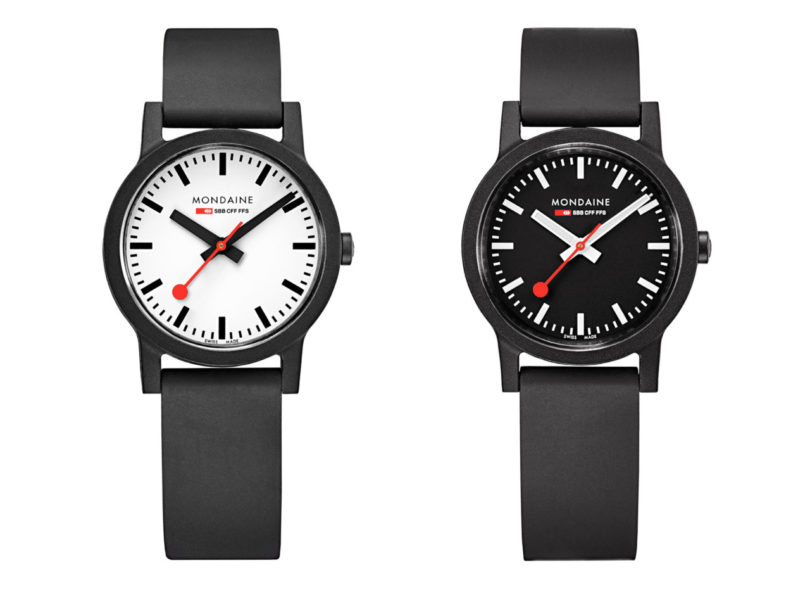 It is the design's graphically concise, easy-to-read composition that also makes it ideally suited to scale down to wristwatch proportions, something Swiss watch maker Mondaine has offered through several minimalist modern watch designs since 1986. But none have been so ecologically-focused as their latest Mondaine SBB essence, a watch made with materials from a surprising source: plants.
Mondaine SBB essence's innovation lies skin deep: its strap is made from natural rubber and its case made with Rizinus, an oil compressed from castor seeds that is converted into a granule bio-plastic. This bio-polyamide isn't just renewable, but also results in a durable and highly tactile feeling watch face, both desirable traits for an object intended to be worn throughout day.
The eco-friendly theme is carried out in full with felt packaging manufactured from recycled PET plastic bottles, a fuzzy sleeve design intended and promoted to be reused as a sunglasses case or for storing away a smartphone. The SBB essence collection is available in two sizes, 32 mm and 41 mm, with the option of a white dial and black strap or black dial and black strap.
We're continuing to push the Swiss watchmaking field forward with our use of environmentally-friendly resources, which is particularly relevant as today's discerning consumers are increasingly considerate of their global footprint. The SBB essence collection is a Swiss watch at its most minimal, maintaining the purity of design that has been emblematic of our timepieces since the start. – Marc Bernhardt, CEO of Mondaine, North America
Throughout its history Mondaine has defined itself as "Swiss, iconic, simple". It can now proudly add, "thoughtfully sustainable" to its rich design history.

Source: design-milk