One of the raunchiest musicals you can see right now in New York is being performed in a church. For those who equate theater with campy shows on Broadway, Pipeline Theatre Company's Beardo defies all expectations. To see it, you have to schlep to Greenpoint and find St. John's Lutheran Church, a red brick building built in the 1800s tucked away on Milton Street. It's also about the sex life of Rasputin, the Russian mystic and advisor to the empire's last Tsar, whose life and death has been endlessly mythologized.
Beardo imagines Rasputin as a dangerous, guitar-toting, sexually-liberated vagabond who's guided by possibly-divine voices in his mind. He's a little bit like a scruffy Bob Dylan, with the moral compass of Kevin Spacey's Frank Underwood on House of Cards. His journey from schizophrenic peasant to erotic attaché to the Russian aristocracy unfolds in the opulent, crumbling interior of the fully-operating Neo-Gothic church.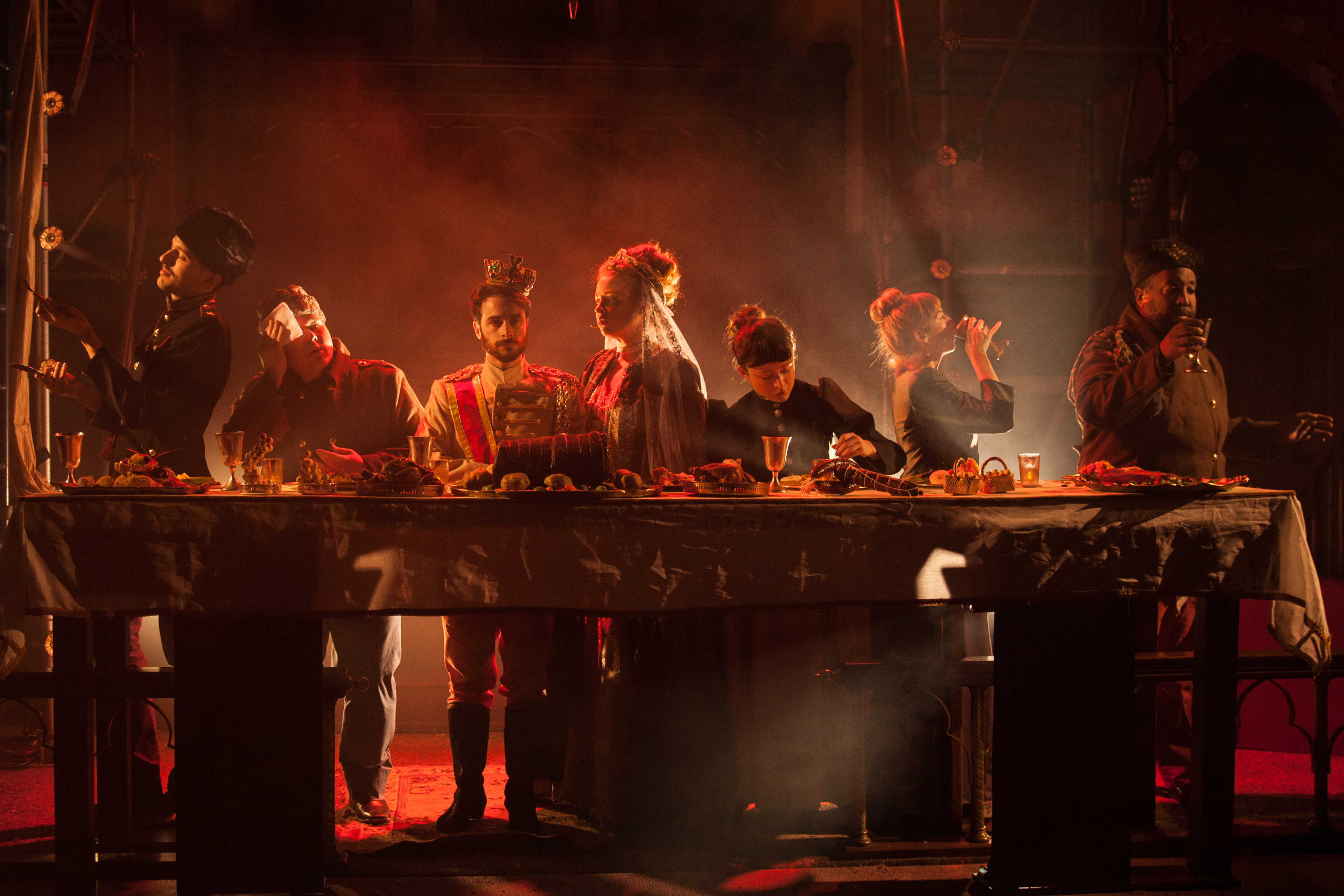 "We knew from the get-go that this was not a show that was meant for a conventional theatrical space," Pipeline's Artistic Director Ari Schrier tells Creators. A theater felt too sterile for a show with lyrics like, "I'll spit god juice in your mouth." But ironically, Schrier and Producing Director Natalie Gershstein loved the idea of setting Beardo in a church.
"It comes down to three things: Number one, this is a show about Rasputin and the fall of the Russian monarchy. Religion is all over this play, and it thematically makes sense in certain ways. Number two, this show is also extremely sensual and extremely profane," Schrier says. "The psychology of a church enlivens those elements in a really tactful way. The third piece is aesthetics. I mean, 90% of the show takes place in the Russian court, and if you're in a beautiful, ornate church, it helps us do that work in a really fun way."
Books and search results on Rasputin abound. (As another lyric in Beardo points out, there's a Wikipedia page devoted to his penis.) But linguistically, the storytelling in Beardo is one of a kind. Jason Craig's book and lyrics make use of repetition and slang mixed with highbrow vocabulary to give the musical a sense of timelessness. The music, heavy on the strings, is by Dave Malloy, who's probably best known for Natasha, Pierre & The Great Comet of 1812, another genre-busting retelling of Russian lore, this time of an obscure section of War and Peace. It's currently on Broadway, where ordering pierogies and carafes of vodka during the show is highly encouraged.
All in all, Beardo is quite an unconventional take on history. And getting the green light to present Rasputin, in a House of God, as a sex-loving, rough-and-tumble political climber meant winning over the people who run churches: priests, pastors, other religious officials. "I had to look a couple friars in the eye and say, 'Okay, full transparency: we don't want to hide anything from you. But there is a song about a very large penis,'" Gershstein says. Pipeline found their ideological soulmate in St. John's Pastor Katrina Foster. "She was not thrown off by the material at all," Gershstein and Shrier intone in unison. "She was not pious about it. She made penis jokes with us," Schrier adds.
Pastor Foster became something like a fairy godmother to the Beardo crew. Gershstein points out that she let them use the church for rehearsals for free, which is unheard of in the New York theater community. The pastor welcomes inventive and challenging interpretations of history, including that of Russian mystery man Rasputin, who some have compared to White House Chief Strategist Steve Bannon. "The best thing about Pastor Foster is that she understands the value of art, free speech, and expression. She sees the value of art making people uncomfortable," Schrier says.
Beardo plays at St. John's Lutheran Church in Greenpoint through March 5. To get tickets, click here.
Related:
Choose-Your-Own-Adventure Play Takes a Bushwick Warehouse Back to the 70s
Fetish Art and Russian Culture Collide in New Exhibition
Immersive Scottish Theater Teleports People to Hell
Source: vice.com