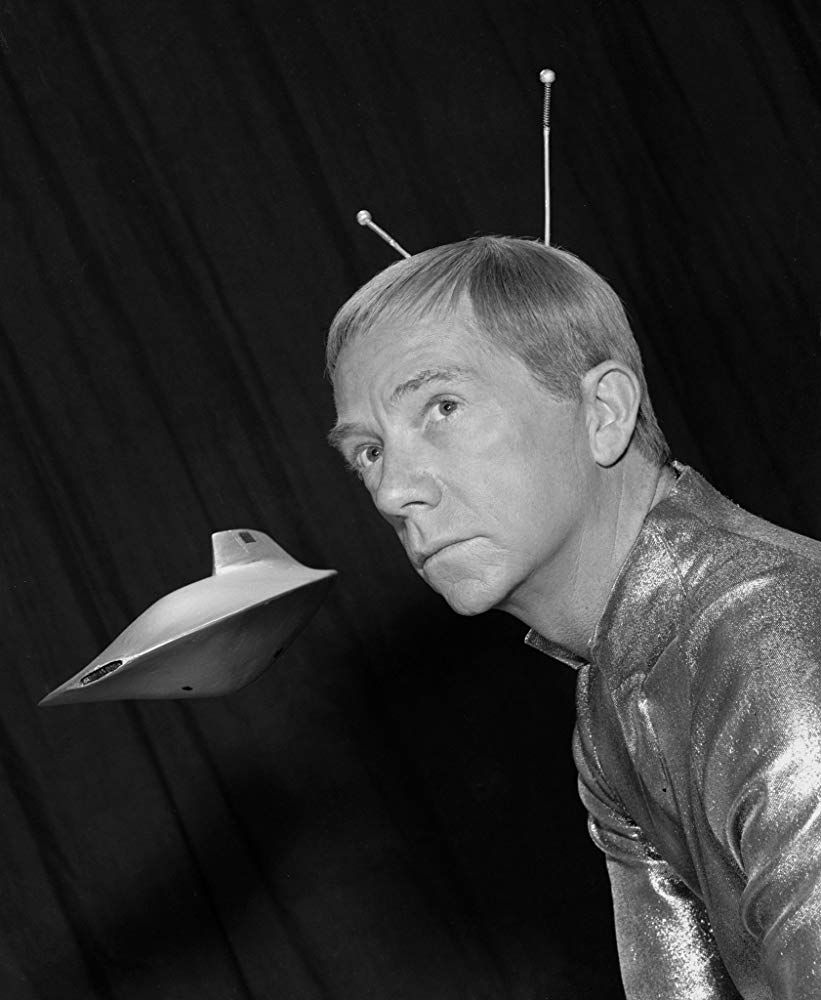 Ah, back again to the misspent days of my youth, in 1963, when a new TV series premiered, this being My Favorite Martian. Just more must-see TV for me, and it lasted for three seasons, from 1963 into 1966, somehow escaping the WTM curse. Well, the Martian did have unique powers.
From the IMDb, we find:
_By the early 1960s, as the race to place men on the Moon was everyone's favorite after-dinner topic, television had produced a variety of space-oriented shows, yet the series that would achieve the greatest popularity didn't feature a human, but a Martian in a crashed 'flying saucer', attempting to 'pass' as human while repairing his spacecraft. "My Favorite Martian" was a sweet-natured comedy with low-budget FX, often silly scripts, but featured one of the most engaging stars in television history, Ray Walston.
Small, slender, with a mischievous smile and thin grayish blond hair, he was a hard actor to 'type'…which made him the perfect choice to play an extraterrestrial! "My Favorite Martian" was a wonderful showcase for his many acting skills, and, when teamed with young Bill Bixby, cast as a reporter who grows to love his 'Uncle Martin' enough to keep his secret, and offer him a cover and sanctuary, there was a magic that almost leapt from the screen. It was cutting-edge SF-comedy in a class of its own at the time, decades before 'Third Rock from the Sun' appeared.
Uncle Martin gets his way by his extraordinary telepathic and telekinetic powers. He also is a philosopher, scientist and mind control expert. He never does anything wrong intentionally, but always seems to betray himself by his misunderstanding of the ways of our world and human nature.
YouTube seems to have many if not all episodes, either directly or indirectly, and I have embedded two below, one of which is the first episode of the series. This was another of the 'safe' series of the decade, and kids across the nation squealed with delight whenever Uncle Martin's antennae appeared. Join them, won't you?
The First Episode
Russians "R" In Season
Source: neatorama