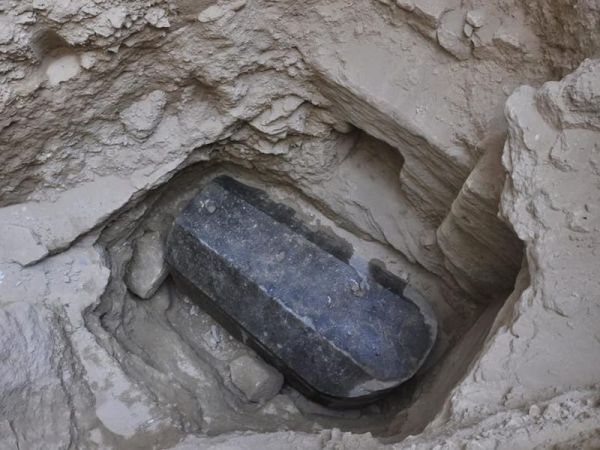 It has never been easy to conduct archaeological digs in Alexandria, Egypt. The city founded by Alexander the Great has been continuously occupied, and now has a population of more than five million people. But in the 21st century, some amazing finds have been unearthed under the city streets, like the University of Alexandria. Just recently, in the Sidi Gaber district, a huge black marble coffin was uncovered. It has been sealed shut for 2,000 years.
The ancient sarcophagus was found by local authorities during standard archaeological excavations conducted before the construction of a new building on Al-Karmili Street. It was found approximately 16 feet below ground. A rough alabaster bust of a man, likely a depiction of the body in the coffin, was also discovered in the tomb, which is believed to date from the era of the Ptolemies, the Greek royal family dynasty that ruled for roughly three centuries from 305 to 30 B.C.E.

According to the Ministry of Antiquities, the tomb is about 8.6 feet long and more than 5 feet wide. Mostafa Waziri, general secretary-general of the Supreme Council of Antiquities, says it is the largest sarcophagus ever excavated in the city.
Who could be buried in such a substantial -and expensive- burial vault? Commenters at reddit are of the opinion that it's either Alexander the Great himself, or some unspeakable evil that will unleash a curse on the entire earth when the sarcophagus is eventually opened.
(Image credit: Egyptian Ministry of Antiquities)
Source: neatorama