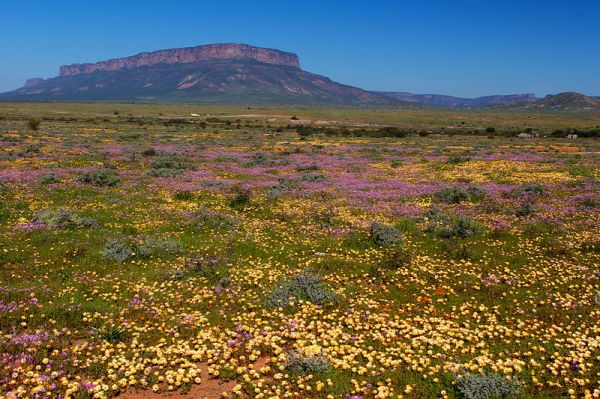 Namaqualand is an area that extends 600 miles along South Africa's western coast. It is a protected area, home to myriad species of flowers that draw visitors from around the world, despite the fact that there are no tourist accommodations. These flowers have evolved in unique ways because Namaqualand is quite arid, classified as a semidesert!  
There are more bulb flora here than in any other arid region on earth.  Over three and a half thousand plant species live here and it is thought that more than a thousand of those are found nowhere else on the planet. Little wonder that the insect life goes in to something of a breeding frenzy during the time of the daisies.

It certainly does not happen every year. The rains must not only fall but fall in the right way.  Soaking winter rains in early May and June are vital.  This must then be followed up with plenty of showers, at least one each week, through July and August. It is in the later part of that month that the explosion of life happens.
Namaqualand is in the Southern Hemisphere, so late August is at the end of winter. See more gorgeous photographs of the rare yet abundant blooms of Namaqualand at Kuriositas. -via Nag on the Lake
(Image credit: Flickr user Malcolm Manners)
Source: neatorama